In 2014, newly elected New York City Mayor Bill de Blasio repurposed $52 million in existing state grants to open 45 community schools in his first year in office. By the 2018–2019 school year, there were over 200 community schools in New York City, with an annual budget of almost $200 million. This is the story of the grassroots movement that transformed New York City from being a laboratory for market-based education reform under Mayor Michael Bloomberg to being home to the largest citywide community school initiative in the country.
Natasha Capers fondly recalls her time as a student at the elementary school that she attended in the Brownsville neighborhood of Brooklyn. Her school "was always considered a jewel of Brownsville," she said. "We had a glee club, and we had athletics, and I think at one point we had a newspaper. And this was just an elementary school…literally surrounded by New York City public housing." Capers was a "mathlete" and competed in local math competitions.
But by the time Capers' children enrolled at PS 298, the Dr. Betty Shabazz Elementary School, she saw a school in a steep decline. "I could see that there was a disinvestment. There just wasn't the flow of resources that there used to be. At one point, we didn't have a functional library or a librarian…And when my children were going there, the technology was at least 10 years out of date. And so many of the after-school programs have been cut."
Capers was vice president of the PS 298 Parent Association and chair of its leadership team. Starved of resources and serving a low-income community, the school seemed destined to tell a story whose ending she could foresee: Mayor Michael Bloomberg would close it and convert it into a charter school.
Billy Easton, executive director of the Alliance for Quality Education in New York City, summarized the Bloomberg approach in a report from the Annenberg Institute for School Reform:
The entire system was aligned to drive up the test score bottom line. Passing state exams became a prerequisite for student promotion. Test scores became the key factor in grading and closing schools…Competition was considered a core driver of reform. Charter schools proliferated, with 183 charters opening during the Bloomberg years. School closings became pandemic, with 160 schools closed due to their test-score-based grades. Frequently, the buildings of closing schools were turned over to charter operators. School buildings were also subdivided to shoehorn a charter school into the same building as a public school, in a practice known as co-location. (Easton, 2014)
Sure enough, in 2011, the New York City Department of Education (NYCDOE) announced that PS 298 was slated for closure. But for Capers and her neighbors, PS 298 was not just a school. "It was an extension of my home and of my lineage," she said. "And to think that wouldn't continue, it hurt. It hurt a lot. But I also just knew that changing the name on the outside and getting rid of all the teachers or changing principals wasn't going to fix what was wrong."
As Capers scrambled to figure out what to do, she received a call from Fiorella Guevara at the Annenberg Institute for School Reform at Brown University. Guevara was working with the Coalition for Educational Justice (CEJ), a parent-led movement fighting school closures and demanding educational equity. Guevara was on the lookout for emerging leaders with deep roots in the community. "Natasha was a leader," she said. "I started to introduce her to organizing and advocacy. It was already within her. I just helped bring that out."
Guevara asked if Capers wanted to fight the school closure. "Yeah, I totally want to save my school," Capers replied. "Because I had a deep understanding, a historical lens, of where my school had been and all of the wonderful things that were possible there."
Guevara had worked for five years as a teacher in Baltimore and Washington, DC, before coming to New York to earn her master's degree. She was subsequently hired by the Annenberg Institute to be an organizer for CEJ, working to expand community schools in New York. Guevara encouraged Capers to see beyond the crisis confronting her neighborhood school.
Capers says that Guevara "just worked with me a lot around understanding that this was a deeper citywide—and even statewide—issue. She helped me to be able to articulate an alternative vision for what could be possible for our school, which ultimately, I think, helped to save us."
Capers promised, "I will make this a community school if it's the last thing I do." She kept her word: instead of closing, PS 298 is now a thriving community school.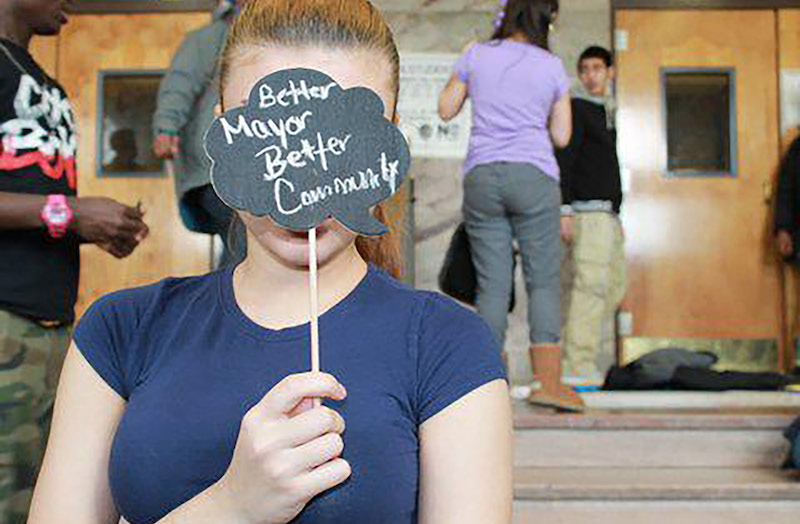 The Education Election
The story of how New York City went from closing under-resourced schools to opening vibrant community schools had everything to do with the 2013 New York City mayoral election. Education activists viewed the 2013 mayoral election in New York City as a critical opportunity. After 12 years of Mayor Michael Bloomberg and waves of school closures, this was a chance to transform New York City's public schools and make education reform a central issue. "With a new mayor, advocates knew they could really influence these policies," said Guevara.
But first, they had to get the attention of the mayoral candidates. Education activists began meeting in 2011 to plot strategy. Two coalitions were formed to advance an education agenda. A+ NYC brought together 51 neighborhood organizations, social service and education advocacy groups, and community organizing groups to focus on community engagement and policy development. New Yorkers for Great Public Schools (NY-GPS) consisted of 31 groups, including labor unions, churches, and community organizations that focused on engaging candidates, grassroots organizing, and communications.
"The shared goal was to see the next mayor, no matter who won, implement policies that replaced the market-reform agenda with a student-centered opportunity agenda," wrote Billy Easton (2014) of Alliance for Quality Education, which, like CEJ, was part of both coalitions:
A secondary goal was that the next mayor should help drive a new direction in national school reform by using New York City's bully pulpit to articulate a successful vision for reform and provide a compellingly positive counter-narrative to the market reformers.
Teachers were motivated to get involved. Karen Alford, vice president of the United Federation of Teachers (UFT), New York City's largest teachers' union, said that, under Bloomberg, "Over 100 union contracts had expired and labor felt very shut out of any conversation about our city. But you also had parents who felt shut out of the process and they were not feeling heard."
Alford, who is co-founder of United Community Schools, a network of community schools in which UFT is the community partner, said that, as the 2013 mayoral election neared, educators asked, "How do we take back our schools? How do we empower our parents and get them to know that government is here to serve? We wanted to share our vision that community schools work, have been here a long time, and we think we have figured out a way to do this and engage other city agencies—and we are very conscious about the dollars and cents."
To show the mayoral candidates a model of community schools, the teachers did what they often do to inspire their students: they arranged a field trip. UFT leaders, including Alford and President Michael Mulgrew, took four leading mayoral candidates—city Comptroller John Liu, Council Speaker Christine Quinn, Public Advocate Bill de Blasio, and former Comptroller Bill Thompson—along with the national union President Randi Weingarten, to Cincinnati to tour the city's successful community schools (see Chapter 5). "We wanted community schools to be part of their platform. Luckily we didn't have to put them in four corners of the plane," Alford laughed, recalling the trip with the team of rivals. The UFT, which represents 200,000 members, made the case to the candidates that the issue was bigger than just schools. Alford said, "If we do this right then we are lowering criminal justice numbers. We are closing off the school-to-prison pipeline. We are thwarting poverty. We are lowering the numbers of people showing up in emergency rooms."
Alford and Mulgrew implored the candidates to "think about what this could mean to our city. Think of what it could mean for everything that surrounds education. We are betting on all of you."
Following the unusual joint trip, the New York Daily News declared in December 2012, "The road to City Hall runs through...Cincinnati" (C. Katz, 2012). The full-court education press was on.
As the union wooed and inspired the candidates, activists worked the neighborhoods. CEJ and other groups barnstormed the city and held 75 charrettes—community brainstorming and planning sessions—to engage education stakeholders, including teachers, superintendents, parents, students, principals, and community members. The charrettes posed big questions: What would you like to see in your ideal school? What do you want the next mayor to do for public education?
Armed with answers collected at these charrettes, activists traveled around the city in a bus they painted bright blue. The "PS 2013 school bus" was an education campaign on wheels, and it was impossible to miss. The bus would drive around neighborhoods and park in front of mayoral campaign events. Members of the public were welcome to come inside the bus where, instead of seats, they would find clear buckets labeled with different education issues, such as art and music, better food, physical education, or more robust social services. People could vote on their priorities by placing a piece of paper in one or more of the buckets.
"You could see in real time what people wanted in their schools," Capers explained. "We tallied the votes, and we came up with an education roadmap for the next mayor for the first year. It was 'whole child, whole school, whole city.' That's how we talked about it. They are all interconnected."
"What was actually bubbling up a lot of times were things that are core tenets of community schools," Capers observed.
The push for democratic engagement in education was an implicit rebuke of Mayor Michael Bloomberg, who wrested control of New York City schools from an elected school board in 2002 and placed them under direct mayoral control. Capers reflected on the grassroots education campaign in an essay that she wrote for the book, Lift Us Up, Don't Push Us Out!:
It was a way of engaging folks in the democratic process that New York does not have around public education, because we have no control. A democratic process around what average New Yorkers wanted to see in their schools. Sometimes we would park the van on random corners and let people just get on and be like, "Come on and vote."
It was really this two-pronged approach around, "How do we shift away from the punitive, school-closure model and toward infusing resources and support into struggling schools?  We want to steer candidates toward community schools as a solution."
Because of all the energy behind [the education campaign], candidates started to uplift community schools as one of the things they were going to put forth. And Mayor de Blasio pledged to open 100 in his first term. (Warren & Goodman, 2018, pp. 64–72)
In 2013, Bill de Blasio was elected mayor of New York City. A grassroots movement was about to transform dreams into action.
A Community of Fighters for Justice
When Ben Honoroff took the job as principal of Middle School (MS) 50 in June 2015, the school in the South Williamsburg neighborhood of Brooklyn was in a death spiral. "When I came to MS 50, the school had gone from about 1,200 students to less than 200 in the span of eight years —a drastic, drastic decline in enrollment," he recounted. "That had to do with a lot of factors: gentrification, neighborhood changing, families getting priced out of the neighborhood, and the closing of a couple of the feeder schools. There was a lot of writing on the wall and rumors in the community that the school was going to close."
MS 50 fit a familiar profile of schools that were slated for closure. Nearly all MS 50 students are children of color and receive free and reduced-price lunch. Under Mayor Bloomberg, MS 50 was flagged as a struggling school—a designation that often resulted in the public school being closed and converted into a charter school. The process had already begun at MS 50, where Honoroff said that more than half the school building was "colonized by Success Academy," a charter school that occupied three of the five floors of the building.
Mayor de Blasio took the opposite approach. He announced that instead of disinvesting in these struggling schools, he would transform them into community schools. A local community-based organization (CBO), El Puente, which had long run a popular and successful after-school program at MS 50, applied to partner with the newly anointed community school. Frances Lucerna, executive director of El Puente, said, "We wanted to support [MS 50] as partners, galvanizing young people in the school and assuring parents that this is a moment that parents could be pioneers and full partners in a school that would really reflect their values and aspirations and hopes for their children."
This partnership was critical in transforming the relationship between MS 50 and its families.
Lucerna explained that El Puente had four cornerstone principles for its partner school: creating community; loving and caring; mastery; and peace and justice. "Those were the guiding principles and real practices when we started to galvanize around a transformation," she said. Community response was immediate: parent meetings brought in 100–200 parents as they developed strategy for the new community school.
"I feel completely lucky and blessed to work with El Puente," said Honoroff. "It's a world-renowned human rights organization and they have deep standing in the community." Honoroff's partner in transforming the school was none other than Fiorella Guevara, who became El Puente's community schools director (CSD) for MS 50. Guevara had pushed hard for community schools as an organizer with CEJ and the Annenberg Institute. Now she wanted to ensure that they would succeed.
Guevara explained her transformation from organizer to CSD: "CEJ and Annenberg had been supporting the implementation of community schools in New York City and they had seen that models were needed for where the community school strategy was working. Without examples, community schools would not become a long-term and permanent strategy of New York City schools. Given my background as an educator and then organizer, I said I wanted to become a community school director. But I knew it needed the right community partner and the right principal...El Puente is a group that I always respected, and they were looking for a community school director for MS 50 with Ben Honoroff. Ben and I talked and [we] decided to come on as a team."
Honoroff and Guevara were in sync in both style and mission. "The success of community schools depends on the relationship of the community partner with the school," Honoroff observed. "In our situation, it's essential that the community school director and the community-based organization and the principal have a shared belief in what schooling means, issues of equity and justice in the curriculum, empowering student voice, and in teaching as a political act."
Their co-leadership was also key because it helped address the under-resourcing of the school. "When I came to MS 50, it was $500,000 in the red, and it had [laid off] two assistant principals," recalled Honoroff. This meant that he had no leadership team.
The solution was obvious. "Fiorella acted as my thought partner. She is a co-leader of this school," said the principal. "That's not the traditional hierarchy of a school. But from the beginning, that's how I treated the relationship…In every decision, like when we hired an assistant principal, Fiorella and I were the hiring committee. Fiorella is at every leadership meeting. In every decision, the community school director and El Puente are part of that decision making."
"The dynamic duo" is how Capers described Honoroff and Guevara, who laughed at the characterization, but recalled the seriousness of the task that they faced: "How do we bring change?"
Their answer: Fight for it.
The first challenge was to reclaim space that had been given to Success Academy, which had announced plans to add a middle school that would directly compete with MS 50 for students. Honoroff, Guevara, and El Puente organized parents to demand that the city stop ceding classrooms to the charter school and instead invest in MS 50. They accused the city of betting against MS 50's renewal just as the school's enrollment was increasing. The New York Times also reported on MS 50's quixotic fight (Taylor, 2016).
And then they won. In November 2016, Mayor de Blasio's office informed MS 50 that it would receive more rooms and Success Academy's middle-school expansion plans were scrapped. "This was an incredible win, and it built excitement among families, teachers, leadership, and community that MS 50 was indeed changing," recounted Guevara. Just as important, "It also sparked this mentality that we were a community of fighters for justice."
Finding Their Inner Champions
Honoroff and Guevara initially focused on what the school should offer during "expanded learning time," the additional hour of school for which community schools received funding. Honoroff, who had been a teacher for 15 years, challenged his teaching staff: "What if you could design any course based on your passion? What would that be? From the jump, we designed our expanded learning program based on teacher passion and student choice." Guevara and her team talked with students to find out what courses they wanted and set out to leverage El Puente and community resources to bring in additional classes.
Honoroff had his own passion that he was eager to share. He had been a debate coach at a previous school. "If you teach kids to do evidence-based argument, it touches all subjects," he asserted. The school introduced a debate class and integrated debate into all subjects. Then a debate team was launched.
"We needed a quick win," declared Honoroff. "It was about hopes and dreams, getting everybody to believe in the school again." Then Honoroff made a bold promise: "We're going to win the first debate tournament for the whole city. We're gonna come back, we're gonna have this big trophy, and it's not just gonna be for the debate coach. It's going to be for everybody because we're gonna integrate this across the school.'"
It was an audacious idea for a failing school. And it worked.
"It was a calculated risk," acknowledged Honoroff, who speaks with the rapid-fire cadence of a debater. Gesticulating emphatically and nearly vibrating out of his chair with enthusiasm, he described how his team drew in Hispanic students, special-ed students, and everyone else in the school whom he and the faculty could interest. "We have kids who literally will come to the country on a Wednesday, they're in a bilingual class on a Thursday, and on Saturday, they're debating in Spanish at the tournament."
School debate teams typically consist of 8 to 10 students. At MS 50, 60 students—one-third of the student body—showed up to participate in the school's first debate tournament. That was fall 2015, a few months after Honoroff and Guevara arrived.
The MS 50 debate team started winning. And winning more. They won the citywide debate tournament. They also fielded the first Spanish-language debate in the city.
"We won, and then they believed. They wanted to believe—and that helped," said their proud principal.
The MS 50 debate team has become a phenomenon. In its first four years, it won the citywide debate trophy three times. In 2019, the team went to the national debate tournament, where they argued with the officials (these are debaters, after all) and successfully challenged the English-only norms of the national competition (Zimmerman, 2019). The debate topic was immigration, and the Latinx students argued persuasively that their perspective was essential. As a result, they became the first team in the national tournament to debate in Spanish—and placed fourth in the country. The MS 50 debate team went to nationals three years in a row, and they were National Runners Up in policy debate in 2022.
Honoroff explained that social justice isn't just something that the MS 50 community school teaches. It's something they live. Their pedagogy is rooted in Paulo Freire's philosophy—See, Analyze, Act—which El Puente also embodies. "We teach the kids that schooling is about more than wins and losses," said Honoroff. "It's about being advocates for peace and justice in the world. We took more pride in breaking the language barrier than we did coming in fourth in the country."
MS 50 and El Puente "never shy away from teaching our students about understanding the world around them," Honoroff asserted. "We have an equity team that meets regularly to teach issues of equity and justice. In spring 2020, students were seeing [racial justice] protests in the streets. We talked about two pandemics: COVID-19 and racism. We built lessons around teaching about those two pandemics and [centered] student voice, and El Puente created a video about it."
A Community Embraces Its School
The Williamsburg community has embraced its transformed school. From teetering on extinction, MS 50 saw its enrollment more than double in just a few years. "We did that by hustling," said Honoroff. "We're doing parent-teacher home visits. I was walking the neighborhood with El Puente and community members and teachers and trying to change the narrative about the school. The only way to change it is to provide a counter-narrative…We use debate as a main recruitment strategy, and we went to elementary schools to teach debate and allowed elementary school kids to debate with us."
The transformation of MS 50 has been remarkable. It came off the city's renewal list of struggling schools and is now a showcase for debate—and for community schools. That transformation is also evident in MS 50's academic performance. Honoroff said that students at the school went from 10% proficient in English and 6% in math in 2015, to 40% proficient in English and 38% in math in 2019. In the first year alone, the middle school doubled the level of students' English proficiency. The reason? "Just from culture, just from hope. There was a different belief. People were happier in the hallways. That had a tangible effect in the data."
An essential element of MS 50's transformation is its partnership with El Puente. "Community schools had everything to do with our turnaround," Honoroff insisted. "We couldn't have had an enrollment increase without our partnership with El Puente. It allowed us to have this tide of optimism and belief and hope, especially with the community. El Puente being a partner with MS 50 brings a legitimacy. As a white male not from the community, it's very helpful to me if El Puente believes in [me] and Fiorella united as a collective."
"At the base of hope and change is legitimacy," he continued. "'Ethos, logos, pathos.' People have to believe in who you are. I need instructional legitimacy. But I also need community legitimacy."
"Our philosophy of community schools is that we are going to meet the needs of families no matter what they are. We're going to have a lot of sweat equity, whether that means walking families to the clinic or getting an immigration lawyer for a family. We see it as part of our job, our school, to support the whole family," said Honoroff.
"Our job extends beyond the walls of the classroom. It starts with home visits and asking what are your hopes and dreams for your child? Our model is always about parent empowerment, and how to enable parents to be leaders themselves."
[9] Ethos, logos, pathos—credibility, logic, emotion—are modes of persuasion in rhetoric and debate.
The View From The Top
Richard Carranza served as New York City schools chancellor from 2018 to 2021, after having previously served as schools superintendent in Houston and San Francisco. He has overseen community schools around the country. Mayor Bill de Blasio's ambitious community schools initiative—growing from 45 community schools in 2014 to 421 in 2023—was by far the nation's largest at the time.
"When I went to New York City, I thought I had landed in heaven," Carranza said. "Because New York City was very comprehensive in terms of how the community schools model was set up. There was an infrastructure that existed centrally to support the community schools with an executive director."
Carranza believes the strength of the New York City community schools is in the power of partnerships with CBOs. "What I really appreciated is that there had been a lot of work done in making sure that there was a seamless-as-possible governance structure between the principal and the chief executive of whatever nonprofit or community-based organization was working with the school—so that the principal and that individual didn't see themselves as being competing entities, but truly saw themselves as being a team working to meet the needs of their school."
Sarah Jonas, executive director at NYCDOE's Office of Community Schools, said a successful transition to a community school requires "a mindset shift around collaborative leadership and practice…To say this is a partner, a leader in your building—that's a mindset shift, where it's co-leadership."
To re-enforce this mindset shift, NYCDOE officials meet monthly with the Coalition for Community Schools Excellence, which represents the community partners. "I think having a group like the Coalition for Community Schools Excellence, which includes members from that original group from the Coalition for Educational Justice, [helps] to kind of keep you honest and hold you accountable if you're the school district."
Jonas observed, "It's easy in a large bureaucracy to think you know what you're doing and that you're doing great things. You need to have a space with and trust with community stakeholders and community partners who can hold your feet to the fire and say, 'Not so fast,' or 'It's not how you think it is,' or 'Have you considered this? Because we think this would actually work better.' So having that is really, really critical for the work."
[10] In September 2022, Jonas left NYCDOE to become Vice President of the Youth Division at Children's Aid.
As head of the New York City Office of Community Schools, Sarah Jonas acknowledged the essential benefits of being part of the larger community schools movement. "Being part of a national movement has been a way to celebrate and showcase our work on a national stage, while at the same time learning from others and hearing about strategies that can inform what we do," she said.
New York City partnered with and learned from several national organizations over the years, including the National Center for Community Schools (NCCS, part of Children's Aid), the Coalition for Community Schools, Attendance Works, Everyone Graduates Center (Johns Hopkins University), and the National Education Equity Lab (Harvard University). Jonas considered these "key collaborators" in providing ideas, tools, and other supports that have contributed to the initiative's design and direction.
The publication of a RAND study (Johnston et al., 2020) documenting the New York City initiative's positive results with community schools brought further national attention to the work. That led to a flurry of outreach from other community school initiatives around the country that were eager to exchange ideas and dialogue about best practices with New York City.
The NCCS annual Community Schools Fundamentals conference was important in helping members of the NYCDOE central team and site-based Community School Directors (employed by community partner organizations) gain a shared understanding of both the underlying philosophy and effective practices of the community school strategy. NYCDOE Program Managers were "excited and inspired" when they discovered that they were joining a national movement, said Jonas. In addition to providing the Fundamentals conference each year, NCCS served as a capacity-building partner to the New York City Community Schools Initiative throughout its development and implementation period.
Since its inception, the New York City initiative has also actively participated in several Coalition for Community School activities and networks, including its biannual National Forum, Community Schools Leadership Network, Coordinators Network, and Research-Practice Network. Many of these efforts represent what Jonas calls a "two-way street"—opportunities to share key lessons from the work in New York City while also learning from the experience of colleagues across the country.
The New York City Community Schools Initiative provided key leadership for an innovative national effort by partnering with the Brookings Institution to create the Task Force on Next Generation Community Schools—a group of thought leaders chaired by Jonas. In February 2021, they published a policy-oriented monograph, Addressing Education Inequality With a Next Generation of Community Schools: A Blueprint for Mayors, States, and the Federal Government. The report provided timely, research-based ideas for the incoming Biden administration, as well as for policymakers at local and state levels. The report had twin goals:
Shaping our educational recovery out of the COVID-19 crisis by implementing community schools in the neighborhoods hardest hit by the pandemic as a first step, and paving the way for a new approach to student-centered teaching and learning that better serves the holistic needs of all students and their families. (Brookings Task Force on Next Generation Community Schools, 2021)
Observers have credited the report with having influenced the Biden administration to more than double funding—from $30 million in FY 2021 to $75 million in 2022—for the federal Full-Service Community Schools program within the U.S. Department of Education. Another substantial increase took place in FY 2023, with $150 million appropriated for the program.
Terrence Winston, executive director of the Coalition for Community School Excellence, acknowledged, "We have been a pain in the ass at times [but] it was agreed in the relationship [with the NYCDOE]. That's a role we fill—but not the only role. We are also a valued thought partner with them."
Winston said it's important to take a long view when assessing the results of community schools: "[Chancellor Richard] Carranza drilled into my mind that it's not a program, it's a strategy. So there needed to be a paradigmatic shift in my own mind…There is such an unrelenting push on getting attendance up. But there are not a lot of why questions, more on the 'what'—what do you need to do? Community schools require 'why' questions—why aren't students coming to school?"
Jonas insisted that funding community schools initiatives in creative and innovative ways is key to their success. "We have looked at funding that is available to support student success and said 'How can that be leveraged to support a community school strategy?' Because we believe that if that funding flows through a community school strategy, you'll have the best chance of achieving those results. Whether it's state-level attendance improvement and dropout-prevention funding, whether it's federal 21st Century Community Learning Centers funds that we believe are very closely aligned to community schools…we look at community schools as the first place to really make the greatest impact with any of these funding streams that are available to us. And we've been successful in doing that, and we've seen results," said Jonas.
Chris Caruso, the founding executive director in New York City's Office of Community Schools, pointed to three key lessons learned from New York's community schools program. "One, there was mayoral leadership. De Blasio made promises and campaigned on community schools…Political leadership extends to Chancellor leadership, and there was investment in infrastructure. We needed to have people who could guide and teach schools how to do this, be [bridges] between schools and other city agencies, facilitate funding, and hold schools accountable. So the creation of an Office of Community Schools with power and authority was a second key feature of this. And then we had cash. This is not free. It's a mindset shift—but it also takes resources. The city allowed me to repurpose funds and identify fundraising opportunities and be aggressive. Those are three system-level features that are important, and early on we were really clear about things we expected," Caruso explained.
The RAND Report:
"Game over. It's checkmate."
When Mayor Bill de Blasio launched New York City's community schools program, he wanted evidence of the efficacy of the initiative. So he included a provision for the RAND Corporation to study the program's implementation and impact.
RAND published its impact assessment of New York City's community schools program in 2020. The report affirmed the success of New York City's ambitious program, finding that New York's community schools showed higher rates of graduation, attendance, and math scores, and fewer dropouts, retentions, and disciplinary actions (Johnston et al., 2020). The RAND report concluded that community schools "can be a promising approach to support student success in traditionally disadvantaged communities."
For New York City Schools Chancellor Richard Carranza, the RAND findings were a crucial asset to making the case for community schools. "The RAND report was a silver bullet because it showed the efficacy of the approach and the connection to student outcomes," Carranza said. He noted that this was especially important for persuading decision makers concerned with the bottom line. Carranza explained: "Usually what I will do with the skeptical budget hawks is say these are the current needs in this particular community based on the needs assessment that has been conducted. Invariably, one of the outcomes of those needs is [addressing] disconnected youth and dropouts. So then I juxtapose the cost of the community school model, which will bring resources—from internships, externships, additional tutoring, additional acceleration opportunities, laptops, mentoring programs, all of those things—with the cost of incarcerating a juvenile for a year, which in New York City was $475,000 a year. And when you compare the cost of incarcerating a juvenile for one year versus what the per-pupil cost of a community school model is, it's usually about 4–5 times the cost to incarcerate a youth. When I show that to the budget hawks, and then on top of that show the student outcome results as researched by the RAND Corporation, it's almost game over. It's checkmate."
Carranza argues that community schools are "…a relatively cheap investment—rather than incarcerating youth, you can actually meet their needs, ameliorate those challenges, and then keep them from becoming the most expensive kind of education, which is incarceration."
The Next Frontier
Natasha Capers, now executive director of CEJ, is proud of playing a key role in the community schools movement in New York City. Capers conceded that the pressure to implement the program quickly—the first community schools opened just months after de Blasio became mayor—was stressful. "A lot of times, slower is better, because it allows us to learn and evolve more naturally."
But Capers quickly added, "The most important outcome is that reconnection of communities and schools. The ones that I am most excited about are the ones who embraced the community part of it. How do we bring schools into communities, and vice versa? Post-pandemic, I think those are the schools that had the best outcomes...because they knew where their families were."
Capers has her eye on the next frontier of activism. CEJ is now leading a campaign to implement culturally responsive curricula. "There are states like Texas [where teachers] can't even talk about current events [in school]," she noted. "My fear is that if we lose this argument—if we don't organize nationally—we don't just lose the argument about culturally responsive education. We lose the argument that race matters. That's the next horizon. It's this growing attack. It's all deeply interconnected across the country."
Capers insisted that the campaign for community schools requires ongoing effort. "At no point were we so enamored by the win that we thought we could just walk away," she said. "We've continued to work with them around parent engagement…and we're always—every year, every few months—trying to figure out what's the next layer of work that schools can take on or that the central office should be thinking about and moving towards taking on."
The goal, said Capers, is "to actually raise the quality of those community schools so that they can become the big vision we know they can be."