Kimmi Thomas beamed as she walked around the freshly painted rooms of her new home. Her footsteps echoed in the large empty space. A small group of community representatives and a local television crew were on hand for her arrival on January 1, 2020. Thomas poured champagne into a red plastic cup and passed it to the assembled guests. She raised a cup, toasting her community—and herself (May, 2020).
Thomas, a homeowner at age 26, is realizing two dreams: hers and her community's. Her smartly rehabbed home in the Lower Price Hill neighborhood of Cincinnati was recently a blighted building with boarded-up windows and peeling paint. Sex workers operated out of the basement. Habitat for Humanity took on the challenge of fixing up the unit, and Thomas applied and was accepted to become a homeowner. She put in 250 hours of sweat equity by painting, hanging sheetrock, and swinging a hammer. For this young mother, a home "means stability, putting down roots, no more slumlords," she said.
Thomas is the embodiment of a dream that took root in the nearby Oyler Community Learning Center, which serves the urban Appalachian neighborhood of Lower Price Hill, where the median household income is $16,000 (Community Learning Center Institute, 2015). Thomas was ranked second in her class when she graduated from Oyler in 2011. But the odds of her succeeding were not good. During her senior year, she had a baby, and then her father died unexpectedly. Few people would have been surprised if she left school; in the early 2000s, about two-thirds of Oyler students dropped out before graduation.
But something had changed in the interim: Her community refused to let her fail. And Thomas was determined to make a better life for herself and her daughter.
Oyler is a community learning center (CLC)—also known as a community school. CLCs are, in the words of the Partnership for the Future of Learning (2022), "public schools that partner with families, community organizations, and local agencies to support the full development and growth of young people using evidence-based, tried and true practices." Oyler has gone from being a failing school in a blighted neighborhood to being the hub of a community's transformation.
Leaders of the Oyler CLC came to realize that their success was intimately bound up with the success of the community they served. "The success of the school and the success of the neighborhood are inextricably linked," said Adelyn Hall, director of School-Centered Neighborhood Development for the Community Learning Center Institute (CLCI), the lead community partner of Oyler CLC.
Transforming one of Cincinnati's poorest neighborhoods is a daunting proposition. To turn around Lower Price Hill would require decent jobs, affordable homes, and safe community spaces. For Oyler CLC to thrive, Lower Price Hill needs to thrive, and, ultimately, Kimmi Thomas has to succeed.
"Kimmi is the poster child for what we are trying to achieve," said Hall. "She had a kid at 17, graduated from Oyler at the top of her class, and as a young mother, she got her associate's degree." After graduation, Thomas got a job as a preschool paraeducator at Oyler. Then she attended an information session for Habitat for Humanity at the school and became one of its youngest participants. She is now president of the Lower Price Hill Community Council.
Thomas "has invested in the community and the success of school," said Hall. The success of Thomas and other Oyler graduates will be the return on that investment.
Coming Apart and Coming Together
In the late 1960s and early 1970s, cities across the country were erupting in civil unrest, fueled by generations of racial injustice. The Kerner Commission, appointed by President Lyndon Johnson to investigate the causes of the 1967 urban riots, concluded that white racism was the root cause of the unrest, and declared that the country was "moving toward two societies, one black, one white—separate and unequal" (Remnick, 2021).
Cincinnati was a microcosm of this racial inequality. The city drew national attention as it exploded in riots in 1967 and 1968. The Black Diaspora Review described the conditions that gave rise to the unrest:
In 1948, half of the companies in Cincinnati employed Blacks only in menial jobs. To be sure, the glass ceiling kept Blacks tied to the bottom rung of the economic ladder. And although the Black population increased considerably after 1950, Cincinnati's limited voting system kept Black political representation low. By 1957, the Black population had reached an all-time high, yet the lone Black city councilperson lost his seat in 1966. Oddly enough, there were two Blacks on the city council during the early to mid-1950s, when the Black population was significantly smaller. This was due to a proportional representational system that was later changed to an at-large electoral system.
The 1968 Kerner Commission in its study of Cincinnati pointed out that African Americans attributed the lack of Black city council representatives to "dilution of the Negro vote through abolition of the proportional representation system of electing the nine councilmen." Moreover, by 1967, although 40% of the city's schoolchildren were African American, only one member of the school board was Black—and "of [the] more than 80 members of various city commissions, only three or four were Negroes." (McDaniels-Wilson et al., 2012)
During that period, Cincinnati experienced a wave of "white flight" from the city to the suburbs. The city's population fell steadily from 500,000 in 1970 to 330,000 in 2000. The school system collapsed. By 1999, enrollment in Cincinnati schools was half of what it had been in 1970, dropping from 90,000 to 45,000 students. By 2021, enrollment had dipped to 36,000.
In 1997, the Ohio Supreme Court handed down a landmark decision in DeRolph v. Ohio. It found that the state's method for funding education through property taxes was unconstitutional, as it deprived poorer school districts of funds. The decision resulted in a massive investment in school construction, particularly in low-income school districts. In Cincinnati, the Board of Education floated a $1 billion construction bond. It was part of an effort to improve education and bring families back. But school leaders had lost the trust of the community and the bond failed.
The implosion of Cincinnati's schools was showing up in the world of attorney Darlene Kamine. She was a juvenile court magistrate with deep community roots. She founded ProKids, a guardian ad litem program for abused children, and she also co-founded the Cincinnati Children's Museum. Kamine explained, "The inequities in education and the opportunities for the kids on my docket—the kids in the child welfare system—were heartbreaking. I thought about the experiences that my child had—after-school activities like drama and just joy. I wanted the children in my courtroom to have the same opportunities that my child had."
Kamine decided to act. In June 1999, she left the courts and became education director for the Children's Defense Fund's (CDF's) Cincinnati office. At that time, the Cincinnati Public Schools (CPS) leadership realized that they needed to pursue a very different approach to restoring the schools. "They understood that they needed to go directly to the community and find out what it would take to bring people back to the schools and to support the turnaround—beginning with rebuilding the schools," Kamine recalled. At the time, schools were typically underused assets that served only school-aged children and were closed evenings, weekends, and summers.
CPS reached out to CDF as a trusted community organization, and Kamine worked with CPS to develop an intensive community engagement process. In order to pass the bond levy to rebuild the schools, CDF led a community-wide effort to create a new vision for the role of schools as CLCs and neighborhood hubs.
Kamine met two leaders in the national community schools movement, Jane Quinn from the Children's Aid Society and Marty Blank from the Coalition for Community Schools. They came to speak at a citywide forum and proposed a new paradigm for CPS. A series of public forums, hosted by CPS board member and former Ohio Governor John Gilligan, continued throughout the year. A local foundation provided funding for a diverse group of community members to visit a group of CLCs around the country that were recommended by Quinn and Blank. Local press covered the story and helped promote the idea of rebuilding Cincinnati schools as CLCs.
"The community school movement would not have happened without Jane and Marty," insisted Kamine. "They were the 'Pied Pipers' of this quiet revolution. They connected people. They brought us together at national convenings and facilitated our collaboration to help us do what needed to be done. They built a big tent. There was no one way, no prescriptive strategy, no script, and no wrong door."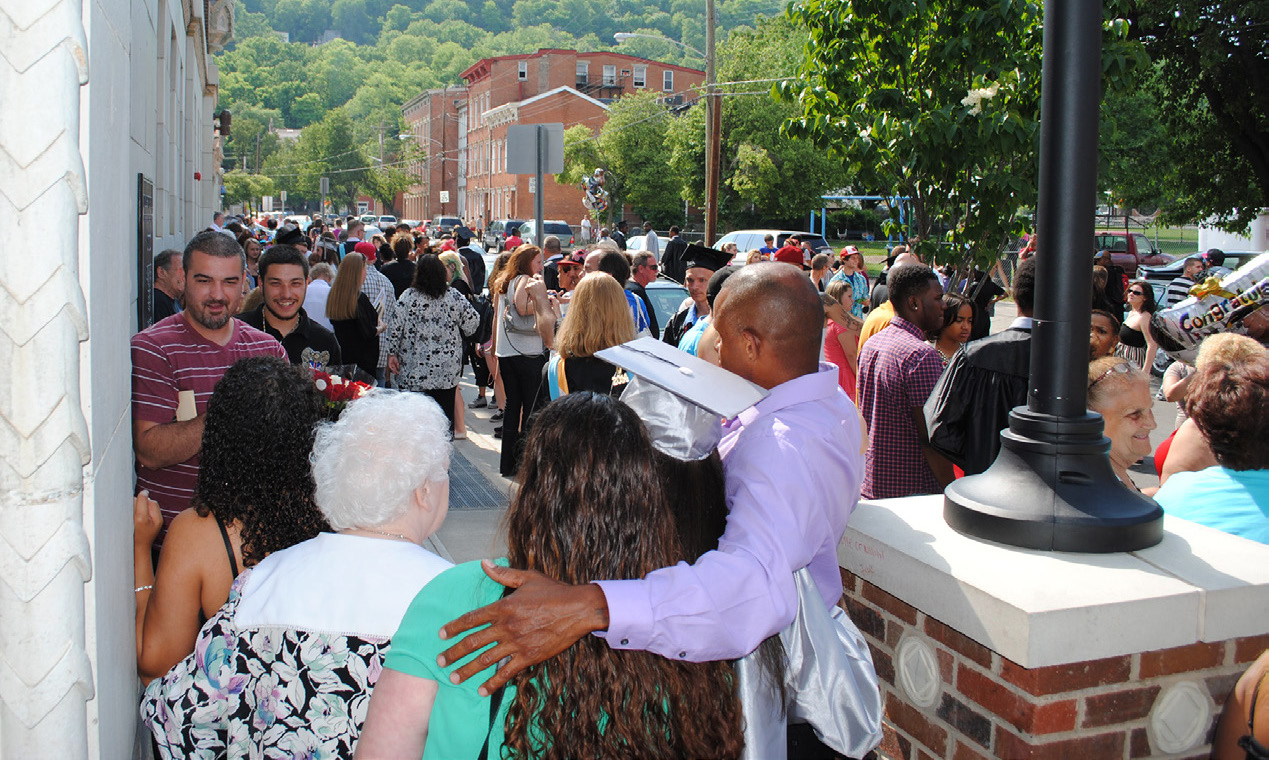 The outcome of this growing support by the city was a determination that all of Cincinnati's public schools would become CLCs and include robust student, family, and community supports. In 2003, an overwhelming majority of Cincinnati residents approved a $480 million bond levy to renovate and replace many of the city's ailing school facilities. "We knew that schools needed to be overhauled by the customers who were using them. This is the foundational element of our work: It's got to be grassroots, neighborhood by neighborhood, businesses, churches, old and young, teachers, kids—the entire public that is connected to that particular school and neighborhood. Those are the folks who have to create the vision and create the kind of school they would choose for their children and the kind of neighborhood they would want for their children and grandchildren," asserted Kamine.
"Each neighborhood developed its own vision for the school as the center of their community, selected the partners who shared their commitment to the vision, and were willing to adapt to a new way of doing business inside a school building."
"We didn't know we would eventually have health clinics or legal services or housing services," Kamine continued. "We had no idea about the scope of what we were getting into."
Kamine became a consultant to the CPS Facilities Master Plan team—leading the community engagement process to develop each school as a CLC. It took three years for Kamine to facilitate the planning for the first one. "The best thing you can do is listen to the people," she said, insisting that you can't "just drop in stuff. The most important thing is to really invest the public in this kind of approach. That's the most time consuming—and the thing that results in bringing people back."
The result of Cincinnati's experiment with community schools has been dramatic. In 2021, the Brookings Institution reported:
In the 18 years since its inception, the Cincinnati Community Learning Centers initiative—which now involves all 65 Cincinnati Public Schools—has continually convened neighborhood-based consultations with families and other residents in order to root its school-change efforts in the community's strengths and unmet needs. Through a board policy, Cincinnati also established Local School Decision Making Committees (LSDMCs) that include families and community members and that have authority over a wide range of decisions, including budgeting, hiring, and partner selection. The slow, steady growth of the Community Learning Center strategy and the continued community commitment have led to demonstrable results: From 2006–2015, the achievement gap between Black and white students was reduced from 14.5% to 4.5%; third-grade literacy increased by 20 percentage points; and high school graduation rates increased almost seven percentage points to 77.9% over the 2014–18 period. By engaging in extensive community organizing, planning processes, and collaborative leadership, a next generation of community school leaders and districts can connect top-down ("treetops") with bottom-up ("grass-roots") reform, build community strength and resilience, and ensure that the design and implementation of their community schools reflects the vision, needs, and interests of students and families. [emphasis added] (Brookings Task Force on Next Generation Community Schools, 2021)
All-In On Community Schools
Cincinnati is now "all-in" on CLCs. All 65 Cincinnati Public Schools are CLCs that partner with a lead agency, like the CLCI, which Kamine founded. CLCI serves as the lead agency for six CLCs; other lead agencies include the YMCA, Grad Cincinnati, and Activities Beyond the Classroom. The lead agency is chosen by the school's LSDMC—ensuring strong community input into the priorities of a local school.
"Every Community Learning Center may look different because each one reflects different community engagement," said Amy Randolph, former longtime principal of Oyler CLC and currently Director of Innovation and Strategic Partnerships for CPS. "No leader can walk into a school and say, 'This is what you need.' There needs to be stakeholder engagement on all levels: What does your community want? What do your teachers want? What do your students want? What do your families want? What do you want to see out of this school that will ensure your success? You really need everyone's voice to be heard."
CLCs offer more than just support services. "It's wraparound services times 10," said Casey Fisher, Community Partnership Manager for CPS. "Wraparound services are basic needs. CLCs are focused on more than basic needs. It goes to access. Our schools have school-based health centers. That goes to attendance. We have therapists on site at every school for students, families, and the community. Cincinnati CLCs have five school-based dental centers and two vision centers—the first financially self-sustaining, school-based dental and vision centers in the country."
Kamine explained that the three distinguishing features of Cincinnati CLCs are community engagement, site-based governance that selects its own partners, and financial self-sustainability so that school budgets can continue to be devoted to education. Medical clinics bill insurance or Medicaid, just as they would if they were free-standing. CPS pays resource coordinators, but all other partners are responsible for their own funding through grants and business models. "Leveraging funds should be priority one," asserted Kamine. "We are looking for sustainability."
A key to the sustainability of Cincinnati's community schools was having the Board of Education originally adopt a policy that affirmed CLCs as a citywide model. Kamine counsels others about the importance of that action: "Don't get started before the Board of Education passes a policy to create community schools—not a handshake with a friendly superintendent, because that will go away and it won't be genuinely transformative. Having a policy has taken us through five superintendents and many Boards of Education."
Culture Change in Lower Price Hill
Rebuilding the Oyler School required more than just plaster and paint. It required a culture change.
Oyler was founded in 1930 as a K–8th grade school. The neighborhood had never had a high school, and the closest one was miles away. In the tight-knit culture of the working-class community, families prioritized keeping children close to home—which meant students typically would not travel to go to high school. Many typically left school by 10th grade and found work. In 2002, when Kamine started the community engagement process to rebuild Oyler, 85% of the students who graduated from Oyler's 8th grade never made it to 10th grade. The fallout of deep poverty and low education could be seen in the fact that the greater Oyler community had one of the highest adult illiteracy rates in the country.
"When we started the planning process for a renovated Oyler school building, hundreds of people in this small community of about 1,000 turned out," Kamine recalled. "They were angry. They didn't care about the bricks and mortar. They wanted their kids to have the chance to go to high school in the neighborhood. They wanted Oyler to go up to the 12th grade. They said that they expressed this for over 30 years, but they didn't have the clout to make it happen."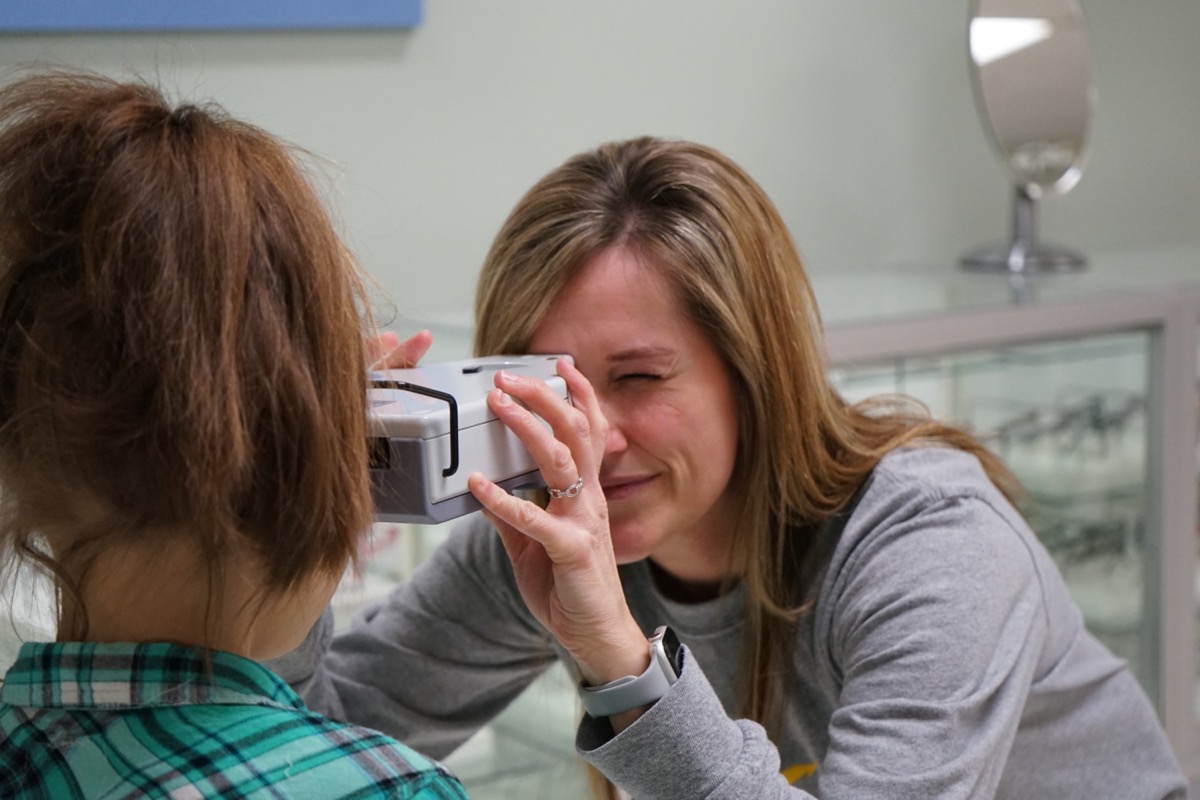 Kamine's goal was for Oyler families to "re-believe in public education." For nearly three years, she and community leaders mobilized the neighborhood, including local business leaders, to convince CPS to include a high school as part of the $21 million facility renovation. The building renovation was completed in 2012.
Through the ongoing community engagement process and the leadership of the Oyler LSDMC, Oyler partnered with the Cincinnati Health Department to create the first school-based health center; a full-time, early childhood education center that accepted children at 6 weeks of age; and a full-time team of on-site therapists.
To address the lack of access to dental or vision care, which the community had identified as a key barrier to student success, CLCI tapped private funders to help build the first school-based dental and vision centers in the country. The redesigned school included space for a food pantry and free clothing store, as well as a daily reading program with almost 300 community volunteers. Dozens of partners were added through the ongoing engagement of the Oyler community including a college counselors, business mentors, and a daily after-school enrichment program.
Pam Bowers, a former member of the Cincinnati Board of Education, is the director of school-based mental health services at Central Clinic Behavioral Health, a CPS community partner. She explained the unique context of the Oyler CLC, noting that it is a neighborhood K–12 school and "most CPS schools are not K–12 and not specific to one community."
"Oyler was struggling to have students attend high school outside the neighborhood," Bowers explained. "They needed the school to sustain their students so they would graduate. The whole Oyler model was based on addressing the high dropout rate. It just made sense to pour a lot of resources into Oyler. Other schools develop strategies that are specific to what their school needs."
The transformation in the Oyler School community has been dramatic. In 2020, 92.5% of Oyler seniors graduated high school—the highest graduation rate since the high school opened in 2009. The culture change now includes an expected continuation to college. Three-fourths of the class of 2021 matriculated to college, including attending the highly competitive University of Cincinnati College of Engineering and the Ohio State University Fisher College of Business.
Identifying the Game-Changer
As Oyler searched for keys to improving outcomes for its students, then-Principal Amy Randolph posed a question to school parents: "What would be a game-changer?"
A consistent answer came back: stable housing. "We are losing students every time a house is boarded up," Randolph told Kamine. "And students who move more than five times are at high risk of dropout."
Another intensive community engagement process was launched with Oyler–Lower Price Hill residents to develop a plan for the redevelopment of housing and improvements to the quality of life in the neighborhood. Adelyn Hall, an urban planner, joined CLCI in 2015 as the director of School-Centered Neighborhood Development.
"After the foreclosure crisis, the vacancy rate in Lower Price Hill was 43%," Hall recounted. "Almost one of every two buildings was vacant. The combination of vacancy and poor housing in the neighborhood was the problem."
Principal Randolph told Hall, "We're not going to have a neighborhood school because we are not going to have a neighborhood."
Hall insisted that for Oyler's students to succeed, its neighborhood must succeed. "Safety, green space, and stable housing significantly impact a child's ability to succeed academically. So many students at the time we started were just moving in and out or couch surfing and at risk for homelessness," she explained. "As a neighborhood, you want families to be located in the community, but with the high vacancy rate it was blighted and uninhabitable. So much of the Resource Coordinator's job was to find emergency housing for students who were couch surfing. We needed to partner with developers, nonprofits, local government, and others to bring quality housing to the neighborhood, raise the quality of life, and maintain the neighborhood school."
To assess a community's needs, Hall follows the same process that Kamine led during the development of the CPS Community Learning Centers. "We focus on community engagement, asking 'What is the vision for the future of this neighborhood?'", explains Hall. "Through that engagement process, we heard that the number one priority was quality affordable housing." Other priorities included economic development, beautification, recreation, and safety.
The community engagement process started in 2015, and it led to the creation of the Lower Price Hill Resurgency Plan. In April 2019, the city approved the plan as the official blueprint for development in the area. Since 2012, an estimated $104 million has been invested in the neighborhood for housing, economic development, and recreation; another $37 million more is expected through 2023. Developers have begun renovating the Italianate row houses to restore affordable housing, and Habitat for Humanity is rehabbing 12 single-family homes in the neighborhood. CLCI renovated a building directly across from the Oyler CLC, transforming the vacant and blighted building into the Oyler House, an extension of the Oyler CLC campus. To encourage similar development of CLC campuses around school buildings, the City of Cincinnati passed the first ordinance easing zoning restrictions for buildings owned by the school's partners that are in proximity to the school facility.
Creating affordable housing is one part of revitalizing a neighborhood. Attracting businesses with good jobs is another key element. Dan Meyer is president of Nehemiah Manufacturing, which packages consumer goods for Procter & Gamble and serves as a "second chance" employer of 200 people. The company has already invested $7 million in building a local warehouse and is embarking on a second stage of investment.
Meyer, who grew up near Lower Price Hill, explained that the revitalization of Oyler School was part of what drew him to the neighborhood. "We wanted to be investing in the community, and part of that community is Oyler School. I didn't know much about it," Meyer admitted. "I was in tears when I visited. What they've done there, adding the medical clinic with vision and dentistry—all the things that can get in the way of kids realizing their greatness. That was new to me to have that inside a school. It showed the transformation of the thinking and caring. The school was not well regarded, the numbers were not good. It was a total transformation to get the community and businesses involved to try to make a difference—one person at a time."
Meyer embodies the ethos of the hardscrabble school. He explained that his company is named for Nehemiah, an Old Testament figure "called by God to rebuild Jerusalem one stone and brick at a time. Our mission is building brands, creating jobs, and changing lives."
Part of Meyer's commitment is to hire people who have previously struggled, such those who have been incarcerated. But he found that, despite his good intentions, these employees would often last only for a short time. "We were too naïve to realize that when they come out of prison, they need transportation, housing, help with legal issues, etc." A colleague suggested that the company hire a social worker. They did, and productivity and job longevity improved. The company now employs three full-time social workers.
"It's bigger than the job," explained Meyer. "It's affordable housing, transportation, [and] financial and personal wellness. That's what we do to make a difference in our employees' lives. It has been powerful."
Nehemiah has been deeply involved in the Oyler CLC. Employees participate in Adopt-A-Class, a program of monthly mentoring, and the company gives school readiness backpacks to children. Nehemiah's marketing team worked with Oyler's 7th and 8th grade students for the entire 2018–2019 school year to create a logo for Lower Price Hill, now displayed proudly throughout the neighborhood. Several Oyler parents have also found stable employment at the company.
"We can break the chains of poverty—and it all starts with education," asserted Meyer. "We need to get these kids rooted in a positive way and have positive mentors to guide them on the journey of life at ages where they can be influenced…My hope is that, as we train them, they may be our future. There's no magic. It's caring about people. What we do is common sense. It's just not commonly practiced."
Kimmi Thomas was settling into her Habitat for Humanity home in Lower Price Hill. Her daughter Haylee attends Oyler, and her husband works at a new community laundromat. With the help of the Oyler CLC, Thomas was admitted to Northern Kentucky University's Bachelor Program in Organizational Leadership. She marvels at being a homeowner.
"The pandemic hit hard, but we had a safe place to go and a safe place to sleep," said Thomas. "We didn't have to worry about how we pay rent if I lost my job because I pay my mortgage, which is cheaper than rent, and I can pay online so my money order won't get lost in the mail."
At the age of 26, Thomas is a community leader in Lower Price Hill. "I really am trying to break out of poverty," she said with an air of determination. "I'm on a hunt for stability and happiness."