The Oakland schools were in crisis. In 2003, the Oakland Unified School District (OUSD) declared bankruptcy and was placed under state receivership, where it remained for six years. The schools searched for a different way forward—and that led them to Tony Smith, a former pro football player for the Green Bay Packers and San Francisco 49ers. After retiring from football, Smith went back to the University of California at Berkeley and earned a PhD in education.
In 2009, OUSD hired him as its new superintendent. "It is super unconscionable to me that we haven't built systems that care for each kid," Smith said.
Smith believed that to fix failing schools, you must fix the broken educational systems. He committed to recast the mission of the Oakland school district so it "serves the whole child, eliminates health, social, and educational inequity and provides each child with a caring environment that supports student learning and success."
His vision: to remake Oakland as a full-service community school district, the first such district in the nation. It was a radical experiment.
Today, Oakland's Full-Service Community School District comprises 80 schools, 67 of which have a full-time community school coordinator. Dropouts have decreased, graduation rates have increased, and academic performance has improved.
Oakland's pioneering community schools program has made it a model for California. In 2021, California Governor Gavin Newsom and the state legislature approved investing $4.1 billion over seven years to expand community schools throughout the state. It is the largest statewide community school initiative in the country and may spawn others. The Alameda County Office of Education, within which the Oakland school district operates, together with the UCLA Center for Community Schooling (see Chapter 7), National Education Association, and Californians for Justice are co-leading the technical assistance effort for California's community schools (California Department of Education, n.d.).
"Supporting students outside of the classroom is essential to helping our kids achieve, and community schools provide those resources for local communities to bolster support services," said Governor Newsom in June 2022. "This strategy is the nation's most ambitious proposal to improve student learning, health, and well-being—full-service schools centered on the lived realities of students and families that deliver whatever students need to help them thrive in the classroom" (Office of Governor Gavin Newsom, 2022).
Oakland is California's 8th-largest city and is among the most diverse school districts in the country. Some 35,000 students attend 80 public schools. Another 16,000 students attend 28 independently run district charter schools. One-fifth of the public school students are African American, 45% are Latinx, 13% are Asian and Pacific Islander, 11% are white, and 6% are multiethnic (OUSD, 2021).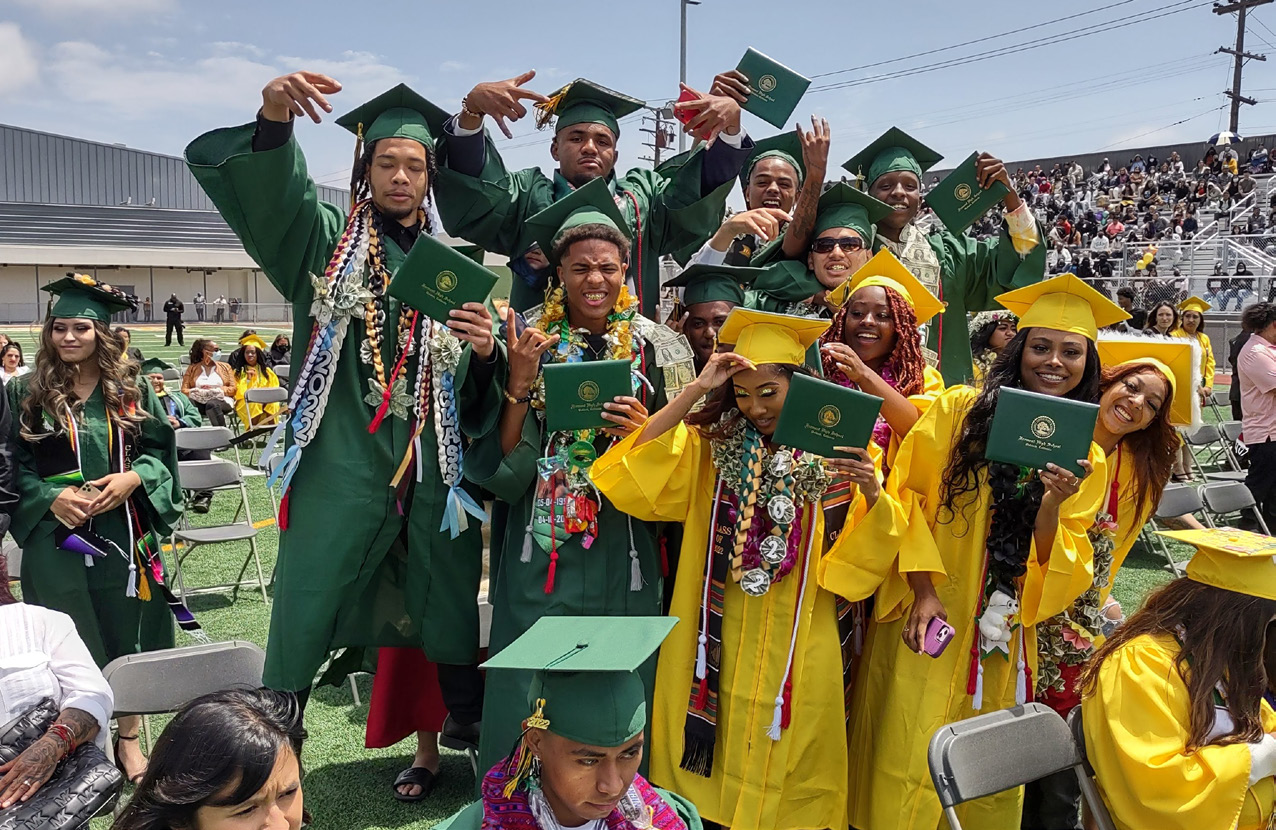 Smith was candid in his assessment of the challenge that Oakland faced. In an early, 5-year strategic plan, Community Schools, Thriving Students (OUSD, 2011), he declared: "We continue to underserve a significant proportion of our youth, namely our African American, Latino, and English Language Learning students, as well as our students who live in poverty."
The strategic plan detailed disparate educational outcomes, such as the fact that only about half of African American and Latinx students graduated from OUSD high schools, compared to more than three-fourths of white and Asian students. But the challenges confronting OUSD had roots beyond the classroom. Disparate educational outcomes reflect challenges confronting the community at large. An African American child born in West Oakland is:
one and half times more likely to be born premature

seven times more likely to be born into poverty

two and half times more likely to be behind in vaccinations

four times less likely to read at grade level by grade 4

likely to live in a neighborhood with two times the concentration of liquor stories and more fast-food outlets

more than five and half times more likely to drop out (or be pushed out) of school (OUSD, 2011)
"Born in West Oakland," declared OUSD's strategic plan, "an African American child can expect to die almost 15 years earlier than a white child born in the Oakland Hills."
Against this backdrop of yawning inequality, Oakland's plan to remake its schools was literally a matter of life or death.
Superintendent Smith determined to close the achievement gap by addressing the opportunity gap among Oakland's students. The strategic plan promised to "create a public school system that works with citizens and institutions to coordinate, align, and leverage resources for the well-being of Oakland's children and families." In June 2011, Oakland's Board of Education unanimously approved the plan to make OUSD a Full-Service Community School (FSCS) District.
Oakland's Road to Community Schools
Community schools have deep roots in Oakland. "There's an extraordinary history in Oakland and so much of that strategic plan actually has echoes of the past: the Black Panthers and the deep care for kids," said Smith.
The Black Panther Party opened the Oakland Community School—the first elementary school of its kind in the country—in the early 1970s. The school was based on a founding principle of the Black Panthers, which was articulated in their 1966 10-Point Program:
We believe in an educational system that will give to our people a knowledge of self. If you do not have knowledge of yourself and your position in the society and in the world, then you will have little chance to know anything else. (Huggins, 2016)
The Oakland Community School provided "quality education for black and poor youth… They established a replicable model for education that was designed to empower whole communities, without regard to race, class, or gender," according to Ericka Huggins, one of the school's founders. The school operated for about 10 years before closing in 1983, following years of government surveillance and attacks on the Black Panther Party, including police murders of its leaders (Mitchell, 2019; Solly, 2021).
Earlier programs to address inequity and educational justice served as a foundation for FSCS in Oakland. In the 1990s, California's Healthy Start program, which was aimed at addressing Oakland's high rates of infant mortality, enabled the Alameda County Health Care Services Agency to fund eight school-based health centers in OUSD—a key element of the FSCS commitment to care for the whole child. In 2011, with support from Kaiser Permanente, the district doubled the number of school-based health centers.
Another foundational piece was Proposition 49, California's universal after-school program, which passed in November 2002. It mandated that $550 million be spent annually on universal K-9 after-school programs. In the detailed study of Oakland schools, The Way We Do School: The Making of Oakland's Full-Service Community School District, McLaughlin et al. (2020) wrote:
Prop 49 brought a sea change to Oakland's offerings. It represented the biggest expansion and rollout of youth programs and services in Oakland's history. The model was a stepping-stone to the community school model's integration of academic, social, emotional, youth development, and community into a comprehensive approach. (p. 17)
Oakland also benefited from philanthropic impact investments. In 2008, Atlantic Philanthropies gave $15 million for an Elev8 Oakland grant to provide academic support and mentoring, health services, and family support through family advocates at five schools. Alameda County, the City of Oakland, and OUSD also contributed, and Safe Passages, a CBO, was the lead agent. Elev8 "provided a relatable example of what community schools might look like in Oakland and established 'proof of concept' for what would be expanded to become the widespread district strategy," reported the Learning Policy Institute (Klevan et al., 2023).
In 2010, OUSD launched a 10-month-long community engagement process. It consisted of 14 task forces that encompassed a broad range of stakeholders and perspectives. The result was the creation of the 2011 strategic plan, Community Schools, Thriving Students (OUSD, 2011). OUSD hired community school managers and the eight neediest schools became Full-Service Community Schools.
Curtiss Sarikey, who has worked in the district since 2011 and is now chief of staff in the office of Oakland's Superintendent of Schools, said that the planning process was crucial to the success of community schools. "The intensive engagement process had thousands of community people involved across 14 task forces to write that plan," explained Sarikey. "The reason that community schools have not just grown but actually thrived—over five superintendents, over a decade, over strikes, over COVID, over school closures—is because there was so much bottom-up buy-in from the get-go. People were deeply engaged in all these task forces and they were able to see that their ideas actually showed up on paper. And a lot of the recommendations that came from parents and community were driving that plan."
With Oakland just emerging from state receivership, a lot was riding on community schools. Sarikey asserted, "This was the moment that we were able to get local control back."
Today the challenge for Oakland is to "create systems to make sure that the bottom-up change is actually truly happening and it's not just words on a page," Sarikey said.
Visionary Leadership for System Change
Tony Smith had been superintendent in nearby Emeryville, where he instituted a Center for Community Life, a precursor to community schools. He then moved on to become Deputy Superintendent of Schools for Instruction, Innovation, and Social Justice in San Francisco. He was mentored and deeply influenced by Richard Murphy, founder of the Beacon Schools in New York City.
Smith tackled his new assignment in Oakland by thinking differently. "In Oakland, everybody was fighting so hard against different parts of what the problem was," Smith recounted. "If we came together and put the well-being of children and families at the center, those conversations would look very different. We would solve the condition of lack of thriving in very different ways. Rather than fighting against something, people could organize, fighting for the well-being of kids."
Smith reflected on the intensive planning process that culminated in the strategic plan for community schools. "Everybody said, 'You can't do so many task forces, you can't do this, you can't do that…' I just kept saying, 'This is what people are asking for. Our job is to create conditions for people to be in relationship, to share their concerns, their aspirations, their needs. Let's be in dialogue and create conditions for people to have agency.' That's what I thought that the central office or the district should be responsible for."
OUSD's strategic plan establishing the Full-Service Community School District—a radical restructuring of Oakland's schools—unanimously passed the school board. This was a remarkable feat in such a fractious educational and political environment. How did Smith do it? The former schools chief paused and considered it. "Probably the best question I've been asked about all of this work."
Smith said the key was "the deep and authentic pursuit of a relationship with each one of my board members. The approach was not the classic, 'I'll give you this, if you give me that.' The idea of not thinking about it from a place of transaction, but thinking about each one of those board members, believing deeply that the approach we were taking met their personal needs, met the needs of their constituents and in fact would [be] to the benefit of a healthier Oakland. That journey with each one of those members was very, very different— in some cases joyful, in some cases agonizing. We talked about reducing the incarceration of African American males. One board member started yelling, 'You running for mayor? We shouldn't even be talking about that!' It was not simple, and it was not straightforward. [I spent] a lot of time walking in the community, spending time in schools with each of those board members."
Smith advocates for a "Go slow to go fast" approach. "Because you can't try to build deep and meaningful relationships quickly," he said. "You have to have experiences together. Shallow tools don't get to the roots. You need deeper connection to actually go about transformation. So that [school board approval] came after deep and long dialogue."
Smith led a radical shift in how an educational bureaucracy approaches struggling schools. "The Oakland work to me is really about a systems view and about the well-being of an entire system and about interdependence," he insisted. "Liberatory design isn't knowing the answer before you start. It's caring deeply that people fully participate, and in that process…come to [a] deeper and more genuine understanding of themselves, each other, and the vision. That's what has persisted in Oakland that is different than in other places: the idea that transformation—social, spiritual, racial justice—permeates that work."
Leadership Change and Rising Outcomes
Just as Smith's arrival in 2009 was impactful for Oakland, so was his unexpected departure in 2013 for family reasons. It sparked a period of frenetic leadership churn. Between 2011 and 2019, OUSD had five superintendents, including two interim superintendents. OUSD went from having a balanced budget to having a $30 million shortfall, forcing budget cuts.
In 2017, Oakland native Kyla Johnson-Trammell took the helm of OUSD. By 2022, she was the longest serving superintendent since 1970. She observed that Oakland's community schools are still evolving and that she remains focused on changing systems. "The community school notion is more than just wraparound services," she asserted.
"How do you take this notion of 'It takes a village to raise a child' and do that at scale?" she posed. "[How do you] think about the systems that you need for different people—in and outside the school—to really be able to personalize supports for students and families?"
The impact of Oakland's transformation into a full-service community school district can be seen in the changes in student outcomes (Institute for Educational Leadership & Coalition for Community Schools, 2020; Office of the Superintendent, personal communication, October 17, 2022):
Fewer suspensions and dropouts: Dropout rates fell by half, from 25.4% to 12.6%, between the 2011–2012 and 2020–2021 academic years. The percentage of students who were suspended decreased from 4.2% to 3.4% between the 2015–2016 and 2021–2022 academic years.

Increased access to health care: There were 36,000 student visits to school-based health centers in 2019–2020.

Academic achievement and growth: Only 22% of students were reading at or above grade level in 2011–2012; this figure rose to 37% in 2017–2018.

Increased graduation rate: Up 25% overall, from 59% in 2011–2012 to 74% in 2018–2019.

Growth for students traditionally furthest from graduating: Black cohort graduation rate increased from 53% to 71%; Latinx from 53% to 64%; English language learners from 46% to 58%. Seven of OUSD's 11 high schools had graduation rates above the California average of 83%. Six posted graduation rates of over 90%.

Increased higher education enrollment: High school students enrolling in a 4-year college within 1 year of high school graduation increased from 27.2% to 32.2% between the graduating classes of 2012 and 2019.
Johnson-Trammell described her view of success for the decade-old Full-Service Community School District: "Success would be you're starting to see movement in terms of kids getting what they need so they are able to accelerate their achievement. You should see decreases in suspensions and expulsions and more kids coming to school, because you're using some of these partnerships …to increase engagement and to remove barriers as to why kids aren't attending. High schools should definitely see more kids continuing to graduate, having the choice whether they want to go to college, or work and go to college. That's grounded in equity, to really ensure that students are staying on the path."
Community Schools and COVID
Half of Johnson-Trammell's tenure has been during the COVID pandemic. "I think this pandemic is not going to be a moment, but an era," she said. "How do we adapt what schooling is like and the capacity building that we need to have to meet this moment so that kids and families get what they need?"
The answer is clear for this superintendent. "Community schools is a way forward."
Johnson-Trammell asserted that Oakland's community schools rose to the challenge of COVID. "I'm proud of our overall response to COVID and our ability to feed families, our ability to really close the digital divide in our city," she said. "We went from 12% to 98% of our students and families that have access to devices. We weren't one-to-one [a computer for each student] before the pandemic and now we are. Our ability to use our mission to set up community hubs for our most vulnerable…—whether it was what was going on in their homes or physically where they lived—they just weren't able to attend school virtually. And so being able to quickly set up those places and spaces for our foster youth, unhoused and other students to be able to access learning in another place was helpful. We were able to set up a virtual academy that served about 150–200 students before the pandemic…[During] the pandemic, it grew to 1,200 to 1,400 students."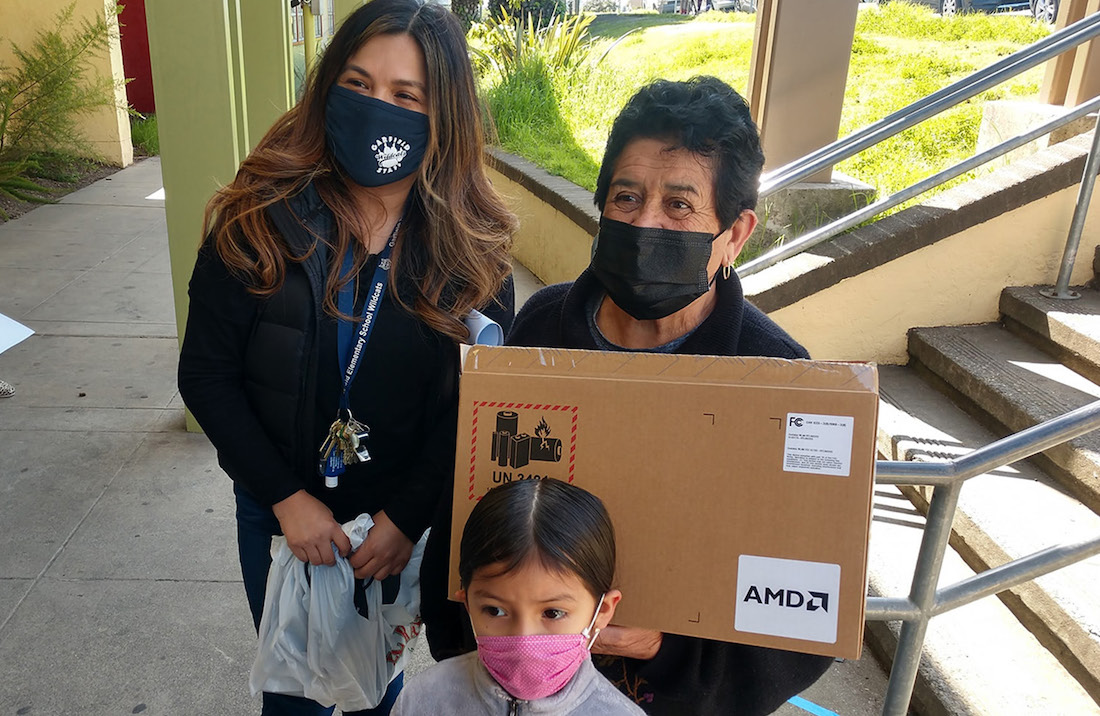 "A lot of that was [possible through support from] one of our community-based organizations, Oakland Reach," she continued. "They really helped us troubleshoot because it was like starting a school overnight. So I would say our overall response, our ability to provide [COVID] testing in the most vulnerable areas in our cities and partnerships with community-based clinics, our vaccination rate was the second best response outside of LA. All of that was basically taking our community schools mindset and putting it into action."
Oakland High School
The sprawling Oakland High School (OHS) is home to about 1,500 students. Roughly one-third are Latinx, another third are Asian, and one-fourth are Black. Just over a quarter of OHS's students are English learners and 87% qualify for free or reduced-price lunch.
Rany Ath is the community school manager for OHS. She runs Shop 55, a hub for a range of health and educational services that is managed by East Bay Asian Youth Center (EBAYC), the school's longtime community school partner. Shop 55 is "a one-stop shop for students to receive services, including medical services, reproductive health, sports physicals, chronic health management, COVID testing and response, dental services, mental–behavioral health services, mentoring, coaching, and crisis counseling," said Ath. "All this is done in partnership with community programs." Participating partners include Asian Health Services, Lincoln Wellness, which provides behavioral services, and Oakland Kids First, which runs a youth empowerment and development program.
Ath explained that Shop 55 grew out of the EBAYC philosophy to "center the community first." EBAYC ran a listening campaign in the community, conducting over 1,000 surveys and 500 interviews to determine the health and wellness needs of the community. "The two main responses were 'We want a school nurse,' and 'We want a place to go to talk to someone, because students don't always feel they have a safe space to talk,'" she said. EBAYC successfully lobbied Alameda County for a school-based health center at OHS, and Shop 55 was the result.
Shop 55 is a busy hub of activity in the high school. Asian Health Services provides a nurse and doctor. There is also a full-time social worker for newcomers, and a part-time foster-care case manager. Ath explained that the goal of EBAYC and Shop 55 is "to connect with every student and let them know there's a caring adult that is worried about them, create a safe and confidential space, and invite them to connect with the services we have."
Ath has a natural connection with students because of her own background. Her parents were immigrants from Cambodia, and they settled in Oakland, a community of refugees and immigrants. "There were language barriers," she said. "We grew up in poverty and we were on food stamps. I see our students experiencing that." She graduated from UC Berkeley and went to work for a national nonprofit, "but I felt a loss of community." So she took a job at EBAYC, paying forward what she received as a child participating in EBAYC's after-school, summer, and mentorship programs.
A struggling student once challenged her: "Why should I care about what teachers expect of me if they don't even care about me?" The statement felt like a challenge that went to the very heart of the mission of community schools. "That caring piece is so huge," said Ath. "I feel like there's such a huge shift in how we care for young people at Oakland High and also how we care for the teachers."
Ath said that OHS is based on relationship-centered and healing-centered practices. "When EBAYC first started 15 years ago, we knew we had to build trusting relationships. We wanted to build the humanity of what it means to connect and see each other in a different way than 'that's a teacher' and 'that's a student'… We have differences, but we need the commonality and to build and show respect and love for one another. Teachers own it, they value it. I feel proud that people see it and feel how relationships are so important."
The Power of Partnerships
A feature of Oakland's Full-Service Community School District is that partnerships are centrally coordinated, rather than having each school find and manage their own partners. "One of the things that Oakland did from the beginning was to bring community-based organizations and the school district together," said Andrea Bustamante, executive director of Community Schools Student Services for OUSD. "Becoming a community school district to take this to scale has been a different approach compared to other systems. We are primarily a district-run community school model." She said the centralization of partnerships helps OUSD "systematize our efforts."
Another benefit of district-run community schools is that "the principals are quite bought in, and there's quite a bit of buy-in from the community," said Bustamante.
"The biggest success is that we've been able to scale. We began with a handful of [community school] coordinators and now have 80 schools total; 67 will have a full-time community school coordinator."
The COVID pandemic put Oakland's community schools to the test. At OHS, the school-based health center pivoted from providing services just for students to providing telehealth for school families. Healthcare providers did regular virtual home visits and wellness checks. OHS raised $130,000 for a family relief fund. Ath explained, "We wouldn't have been able to identify those families if it weren't for the teachers and administrators. They're in contact with students who are confiding in them" (Klevan et al., 2023).
Student Voice
Asked what others can learn from OHS, Ath quickly replied, "The importance of the ongoing uplifting of student voices. We find opportunities to hear from young people about what they are experiencing, whether through focus groups, for pride [LGBTQ] students, for students who are at school but don't want to go to class. We use that information to shape something, inviting them back and asking if this is what it looks like."
Justine Santos is organizing director with Californians for Justice, which runs leadership skills programs—an extended learning opportunity—at OHS. Santos explained, "When we talk about student voice, what's important about students as decision-makers is that [they] are at the table and their views are represented, versus we are going to get student input in this space but the decision is made elsewhere."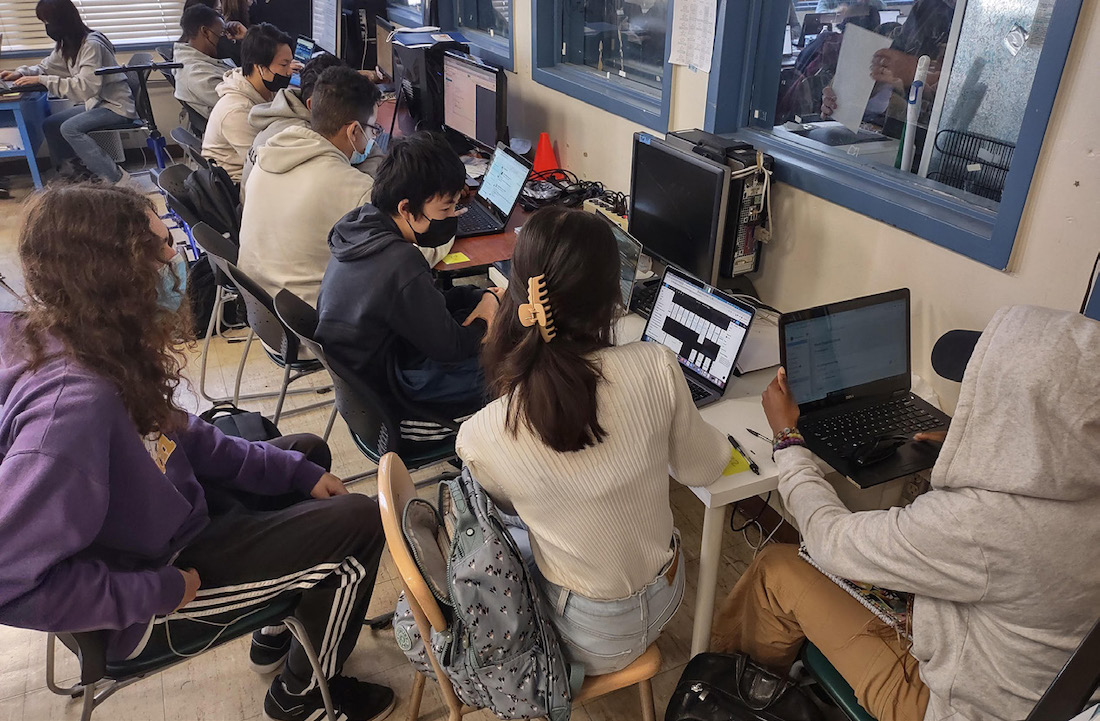 "We are trying to be in deep partnership with the community school manager and the principal," Santos explained.
The COVID pandemic has helped to strengthen the role of students in decision-making. "One of the big, lasting changes that I see was in response to the pandemic. Before, it was optional to bring in student voice. Now, students are fully integrated as partners. Plans don't get made without students at the table," Santos said.
A key part of the OHS community school is the Coordination of Services Team (COST), which meets weekly and brings together partners, case managers, and counselors. Teachers or other adults can refer a student to COST, which then creates a care plan. Ath also meets weekly with OHS principal Pamela Moy to "align ourselves."
Moy emphasized that the community school is one part of a continuum of care. "We try to connect students with external resources," she said. For example, OHS is home to many recently arrived immigrants, known as "newcomers." Moy explained, "Our newcomer social worker operates out of the wellness center and supports them by connecting them with legal services as they try to navigate with immigration. It's a warm handoff—not just 'Here's the name of someone—good luck!'"
Gentrification, White Reformers, and School Closures
Oakland and its schools are transforming. Gentrification and an influx of white and Latinx residents have changed the face of the city. Forty years ago, nearly half of the city's population was African American. Today, Whites are the largest racial group, followed by Latinos (U.S. Census Bureau, 2021). The demographic changes and the siphoning of students to charter schools have left public schools under-enrolled and underfunded.
Against this backdrop, the OUSD school board announced in January 2022 that it would close seven schools by 2024, merge two schools and eliminate middle school grades in two other schools. OUSD cited a $40 million deficit and declining enrollment (McBride, 2021). Over 40% of students on the school closure list are Black—double the proportion of Black students in the entire district (Finney, 2022).
When Parker Elementary School in East Oakland closed in May 2022, a group of families staged a 130-day occupation that ended when the Oakland school board agreed to convert the school into an adult and family literacy center (Bennett, 2022).
Some of Oakland's challenges stem from the fact that it "has definitely been ground zero for the reformers," said chief of staff Curtiss Sarikey. After OUSD emerged from state receivership in 2009, "the district's uncertain finances and poor performance also opened the door for experimentation from wealthy, mostly White philanthropists with no ties to Oakland," reported the Washington Post (Wilson, 2022).
Among the reformers was the Bill and Melinda Gates Foundation, which invested $25 million in a "small schools" initiative that promoted breaking up large schools into smaller campuses. "So there are a lot of small schools by design, and not just because you lost enrollment," asserted Sarikey. "And then there's a lot of investment and a lot of charter growth in Oakland, so a third of Oakland children are sitting in charter schools." This has resulted in a steady depletion of funds available for public schools.
On April 29, 2022, Oakland Unified teachers staged a one-day walkout to protest school closures. This protest followed a 7-day strike in February 2019. Teachers had been without a contract for two years and were demanding small class sizes, more school counselors, and increased pay. This strike was inspired by a national wave of teacher activism that began in 2018 and extended from West Virginia to Arizona and Oklahoma to Los Angeles. When OUSD schools closed during the strike, solidarity schools opened. The 2019 Oakland teachers' strike ended with teachers winning an 11% pay increase and concessions around class size and support staff.
Superintendent Kyla Johnson-Trammell said that the latest protests reflect "a story of what happens over time when you don't have stable leadership and you have a high level of leadership turnover and how that [turnover] can erode systems of improvement over time. A lot of Oakland's history is reforms that were great ideas but never had the chance to get seeded in the soil."
But the superintendent added, "Even though there was all that consternation going on, there is still intense commitment to community schools."
"We Are the Ones We've Been Waiting For"
The challenges that Oakland has faced, from the pandemic to school closures, have been a stress test for community schools, and the model has demonstrated its resilience and relevance. Its strength is its emphasis on seeking community-based solutions to problems. "This notion of a community school seems to resonate even more with folks because people were able to see it live, in action, as a response to the pandemic," said Oakland Superintendent Johnson-Trammel. "[We were] able to meld together academic and socio-emotional learning supports. I think those are the pieces that are bright spots in our district. That really becomes baked into your mission. It's not just an add on. It's not just an initiative. It's the way that you're trying to think about how to have school really aligned to the whole child's theory of action."
"Community school isn't an end, it's a means to an end," Johnson-Trammel declared.
Tony Smith, the Oakland superintendent who launched the community school initiative, reflected on Oakland's decade-long experiment. Smith said he is proudest "that people believed in the idea that we are the ones we've been waiting for. That there's not some other external answer, that the work is the work that [we do] together. The direction and the path have endured."