Tim Only peered out at the student body of Evans High School in Orlando, Florida. The scene before him was like a dream. Coming from a family shattered by abuse, violence, and addiction, Only was more likely to end up on the streets, in jail, or dead.
Instead, Only was senior class president, addressing his classmates at Evans High School. "My life was very difficult," he said. "I won't even say I was in a single-parent household. I had to raise myself…I was dealing with sexual assault and physical and emotional abuse. I didn't want to have that life, using drugs and engaging in violence."
When Only finished middle school, he did not want to attend Evans High School. "I hated Evans. Because my whole family went there and were defiant and violent. I wanted to go to another school, but I didn't have transportation. I was stuck at Evans. I didn't like the culture and violence of the school."
Evans High School was synonymous with failure. The school was dubbed by one national publication as a "double F dropout factory." In the early 2000s, it was placed under a Florida Department of Education school improvement program.
Evans serves the Pine Hills neighborhood of Orlando, and 99% of its students are minorities—mostly African American. In 2010, the unemployment rate in Pine Hills was over 10% and the median household income was $40,000. The community is home to about 70,000 people.
But the Evans High School that Tim Only entered in 2013 was very different from the one that his siblings attended. Between 2010 and 2012, Evans High was torn down and replaced by a new facility. More than brick and mortar had changed. The new Evans High opened in 2012 as a Community Partnership School. The high school had four core partners—Central Florida Family Health Center, Children's Home Society of Florida, Orange County Public Schools, and the University of Central Florida—that would work together to provide robust integrated supports for students and families, including after-school programs, on-site health care, and parent and student engagement.
"From Suicidal to Senior Class President"
Tim Only did not know what a Community Partnership School (CPS) was, but he was nevertheless embraced by its network of support. In 9th grade, he met Jarvis Wheeler, who was teaching a class in college readiness (he would later become the CPS director). Only had never encountered someone like Wheeler.
"He said if we become successful, he would die for us. I never heard that before," recalled Only. "I was at a point where I either get help or I pull the plug." It was not an idle threat. A sexual assault survivor, Only had attempted suicide before and would attempt it again during high school.
Wheeler admitted that Only "was a troublemaker. He had a single mom who was HIV-positive, they lived in poverty, and there were often domestic issues. He came to school and the trauma came with him…But he had a desire to be better."
Wheeler agreed to mentor Only on the condition that he accept certain "nonnegotiables"—including that Only would participate in the CPS Student Leadership Council and use every support that was available to him at school.
Only embraced the opportunities. "He took advantage of every service—mental health, food, family resource center," said Wheeler. "When he was homeless, he took advantage of housing opportunities. When there was a shooting in his home, he ended up becoming suicidal and got mental health counseling. He went from suicidal to senior class president."
"This is a kid who probably wouldn't have made it with the trajectory he was on," Wheeler said candidly. But at Evans High, a UCF-certified Community Partnership School, his teachers and support personnel "were able to see that his ceiling is just as high as any of his peers in more affluent areas. When we started to fill gaps in his ground floor, he started to thrive."
"I wasn't violent, but I was grossly disrespectful," admitted Only. "My words were my fists." At Wheeler's urging, Only began visiting the school's new mental health clinic. The therapist "dug into a lot of things I never knew I would talk about." Only also visited the school's dental clinic and health center, something he had never done before. Instead of making distant medical appointments and having to find a way to get there, he could walk down the school hallway for his health care. He reveled in the chance to take care of himself in ways that his parents were unable to do.
Tim Only went on to serve as a page in the Florida Senate, graduate Evans High School in 2017, and attend Florida State University.
Evans High has followed a similar trajectory. When Evans began as a Community Partnership School in 2010, the graduation rate was 64%. By 2019, 98% of Evans students graduated high school (Orange County Public Schools, n.d.).
"Anything the community school offered, I did it," declared a proud Only. "I was the first student who engaged in everything. I proved it doesn't matter how bad your life is if you have the right group of people supporting you."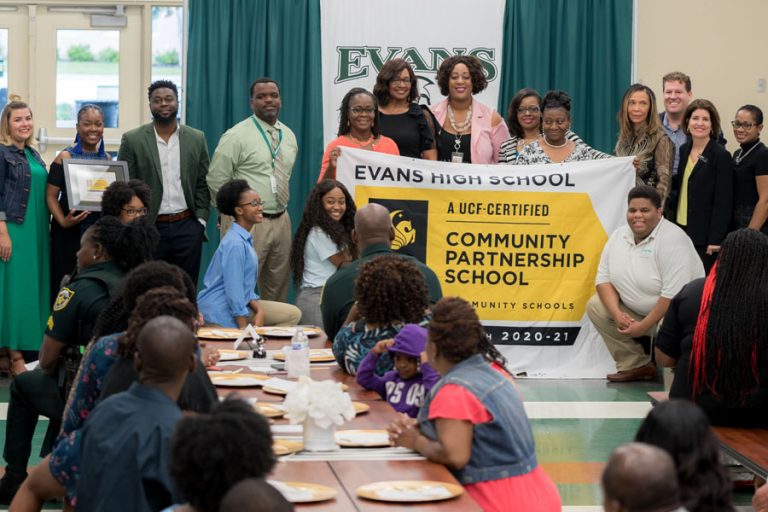 Community School Rising
In January 2009, a group that included David Bundy, president of the Children's Home Society of Florida (CHS), Michael Frumkin, Dean of the College of Health and Public Affairs at the University of Central Florida (UCF), and Nancy Ellis, Director of Community Partnerships at UCF, traveled to New York City to visit the community schools operated by the Children's Aid Society. "We felt we were just putting out fires, and we wanted to do something different," Bundy explained. "Our organization got involved because the state was doing a very bad job on child welfare…We were managing kids from [struggling] families with not a lot of success. We said there has got to be some way where we could bring those resources together for kids at high risk for child welfare involvement. We thought community schools fit that bill."
Frumkin brought the UCF provost into the discussions about community schools. "I knew it was important to have the university behind it," Frumkin said, adding that the provost "gave his commitment, and that gave me permission to approach other deans and other colleges. That doesn't happen frequently in large universities." With over 70,000 students, UCF has the largest student body of any public university in the United States.
When they returned to Florida, the group began talking to school districts, healthcare providers, and other potential partners who would be interested in hosting a community school. They found interest at Evans High School in Orange County, a school of 2,500 students—100% of whom received free and reduced-price lunches.
Frumkin and Bundy determined that if they were going to invest the time, money, and effort into transforming Evans into a CPS, they wanted a 25-year commitment from the school district and four core partners. That was a high bar—which was intentional.
"The history of Pine Hills [the neighborhood served by Evans High] is they have a two- to three-year program based on a federal grant that disappears, and they never see anything out of it," said Frumkin. "I was convinced that we had to change the playing field. So from the beginning we had the idea of a 25-year commitment, and that's why it was important to get the provost on board." Frumkin acknowledges that such a long time frame is "not normal." But he also knew that funding would be commensurate with the time commitment. He wanted this transformational effort to last long enough to have an impact on students and communities.
In 2010, UCF, CHS, and Orange County Public Schools signed a 25-year agreement to establish a UCF-certified Community Partnership School at Evans High. Central Florida Family Health Center, a federally qualified health center, signed on two years later as an additional core partner (it was later replaced by Orange Blossom Family Health). J.P. Morgan provided seed funding.
In 2014–2015, the Florida legislature provided $685,000 to establish the UCF Center for Community Schools and to replicate the CPS model started at Evans High. In 2020–2021, the statewide appropriation was $7.1 million.
UCF Dean Frumkin credits the early funding success to an all-out lobbying effort by CHS. "The whole thing was really due to the Children's Home Society setting this as priority," Frumkin insisted. "The university supported it, but it was not in their Top 10 list. It was CHS leading the legislative and other pieces."
CHS President Dave Bundy had a secret weapon to lobby lawmakers: children. He credited CHS's "top-notch legislative director," Summer Pfeiffer, who had formerly been a legislative aide and had developed an internship program for high school students. Pfeiffer, now CHS's vice president for government relations, brought the young people to meet with lawmakers. "Legislators said the conversations with the kids were the most impactful," recounted Bundy. "Kids told them, 'This program saved my life and gave me a purpose.' The legislators paid attention. That was key."
In 2022, Florida had 29 Community Partnership Schools which were supported by the UCF Center for Community Schools. These schools served 23,000 students, half of whom were in elementary school, 86% of whom were economically disadvantaged, and 75% who were students of color. In 2020–2021, these students received over 100,000 hours of tutoring, academic support, and enrichment activities (UCF Center for Community Schools, 2022).
UCF worked closely with national community school leaders to devise a community school strategy for Florida, with Evans High School as the pilot site that would demonstrate the viability of the model. "The National Center for Community Schools coached and guided us in times of challenge, celebrated our successes, and served as thought-partners in advancing our work," said Amy Ellis, Ed.D., director of the UCF Center for Community Schools. "From early discussions with Pete Moses, to technical assistance from Jane Quinn and Janice Chu-Zhu, and, most recently, Abe Fernandez, our partnership with the Center has been invaluable over the years."
According to a history of the CPS (UCF Center for Community School, n.d.), "The core partners began an implementation based upon the Children's Aid Society's community school model that focused on a strong academic program supported by a wide range of after-school activities for students and the community; access to physical, behavioral and dental health services on site; and a strong parent-engagement program."
The Evans High Community Partnership School model involves a much greater role and partnership with UCF, drawing inspiration from the University-Assisted Community School approach pioneered at the University of Pennsylvania's Netter Center. Among the resources that UCF has committed to the partnership are nursing, education, behavioral health, and medicine (UCF Center for Community Schools, n.d.).
A distinguishing feature of the UCF model is having four core partners: a nonprofit organization (which serves as the convening partner), the school district, a healthcare organization, and a college or university. Each CPS has four staff members, each of whom oversees a pillar of the community school: a partnership director, an expanded learning coordinator, a wellness coordinator, and a coordinator for family and community engagement. "This comprehensive model of a community school leverages the social and institutional capital of the partners, making it possible for the school to offer resources and services that address the needs identified by the community," states the Center for Community Schoolswebsite (UCF Center for Community Schools, n.d.).
"The partnerships are transformative," said Amy Ellis of the UCF Center for Community Schools, which serves as technical advisor to Florida's 29 Community Partnership Schools and disburses state grant funding to the schools. "Core partnerships in our work are more than business relationships. We come together and commit long-term to a shared vision and purpose. Our partnerships extend to stakeholders at every level, from students to state legislators. Greater awareness of our work has deepened understanding by those investing and, because of this, we have been afforded the opportunity to dig deeper for broader impact across the state. In addition to providing technical assistance, the Center for Community Schools acts as a neutral body that ensures the fidelity of the Community Partnership Schools model framework. Our process allows for continuous improvement and the infusion of community school best practices across the field."
"In all that we do, we must be adaptable," insisted Ellis. She said one of the mantras of Community Partnership Schools—coined by longtime CHS leader Tara Hormell—is "We mold like clay." She concluded, "When we hit a barrier or challenge, we mold. As a field, state, center, and in sites across the state, we must be willing to adapt as we move forward to meet changing needs and advance our practice."
From Dropout Factory to Magnet
"Evans was a dropout factory," said Jarvis Wheeler, who grew up near Evans High, went on to teach there and is now the CHS statewide Director of Community Partnership Schools. The school "was a very intense place," he said. "We often had SWAT [teams] around during dismissal. You mostly felt safe in school, but immediately on leaving campus you were exposed to a lot of negative influences. It wasn't pretty. That's ultimately why my mother transferred me to another school."
A typical Evans High student comes from a home marked by poverty and instability, explained Curtesa Vanderpool, a former science teacher at Evans who now works for CHS as Area Director for Community Partnership Schools in the Central Florida region. The school now has extended hours, opening at 6:00 a.m. and closing at 5:30 p.m. "We try to ensure school is a safe place," she said.
A CPS not only supports students. It also transforms the roles of the teachers. "The idea that I could only be a teacher, and not [have to be] a doctor, counselor and mom to students—I loved it," said Vanderpool.
"If I see that one of my students is not acting as they normally would, instead of calling the dean or sending them to the guidance office, I knew immediately that I could contact the community school director," Vanderpool explained. "Then I could give that student a pass and she could go to get services. It's not taking our kids away from the academic environment. This actually allows them to be more present in the academic environment."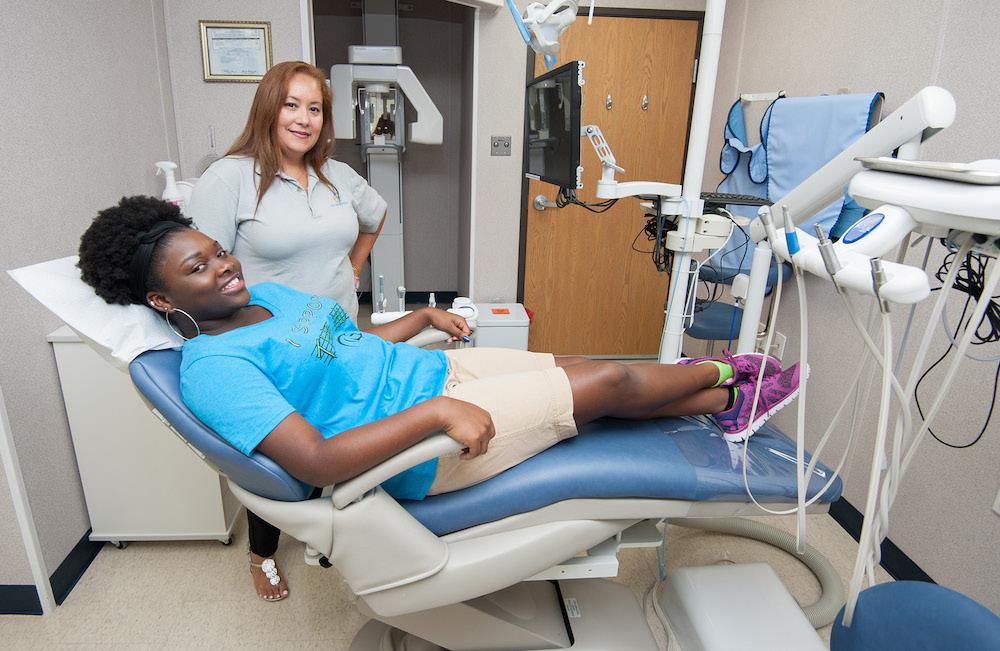 Wheeler said that for students from families with low incomes, "there are a myriad of challenges that cause them to focus on survival rather than thriving. The whole key to Community Partnership Schools is that it is an equity strategy," Wheeler noted. "We learn that at Evans all the time. We say they want after-school programs, but they don't have transportation and they're hungry. Because their family is in survival mode."
Every CPS performs a community needs assessment to establish priorities for the school. "The needs assessment really paints the 'what,' but it doesn't paint the 'how,'" Wheeler noted. "You can see that mental health counseling is a need, but you are dealing with a community where there is a stigma around it. So when we called mental health counselors 'student success coaches,' parents felt they were getting hustled. I immediately said we've got to call it what it is and do more education and awareness. So now we take all students to mental health counselors and explain what it is, and I tell them how and why I use it. Now they utilize it so that before there's a fight, they see their counselor."
The impact of Evans CPS has rippled from the school to the community. Disciplinary referrals have dropped markedly at the high school. "According to the 2017 Orange County Sheriff's Office, since the inception of the Community Partnership School at Evans, crime has dropped 19% within a one-mile radius of the school," reported Amy Ellis.
A CPS is not a case of "build it and they will come," Wheeler insisted. "You have to meet them where they are and get rid of the blinders. School is not just 'get your education and leave.' It's 'We care about you. We care about your lives.'"
Culture of Yes
The CPS model pioneered at Evans High is being replicated around Florida. Four hours away in Tallahassee is Sabal Palm Elementary School, which became a CPS in 2019. Sabal Palm is located in the poorest zip code in the state of Florida. The school ranked in the bottom 300 for reading proficiency. It is a healthcare desert—there are no doctors within five miles of the neighborhood.
Anicia Robinson is the principal of Sabal Palm Elementary. When Robinson ran track and field at Division 1 CalState North Ridge in Los Angeles, she was in it to win. As the principal of a relatively new CPS, her mentality has not changed. "I'm a very competitive person," she admitted with a laugh. "I pride myself on being the best of the best. And my students deserve that."
Robinson recognized a winning idea when she was approached in 2016 by Dr. Daniel Van Durme, a physician and faculty member at nearby Florida State University (FSU) Medical School. He explained that FSU had a mission to work in underserved communities and they were thinking of putting a clinic across the street from her school.
"If there was room in her office, she would have done back flips," Van Durme chuckled as he recalled Robinson's reaction. She told him stories about students who missed school while waiting weeks or months to get a school physical. "My first promise to Principal Robinson was if there is a child who can't start school due to a lack of a physical, we will give them an appointment within 24 hours," stated Van Durme.
As the doctor and the principal discussed how to maximize the impact of the new clinic, they agreed that it had to serve the whole family, not just students. "A fifth grader won't be successful if his teenage brother is in jail, or his sister is pregnant—that's the idea of addressing the broader issue," said Van Durme. "The social determinants of health are identical to the social determinants of education."
Underscoring the link between health care and learning, Principal Robinson recalled a 3rd-grade teacher who "called to say a student had passed out. The child had rotten teeth. She was in such pain that she passed out. That sparked our conversation with Bond Dental, and now they come every two weeks with a mobile dental clinic."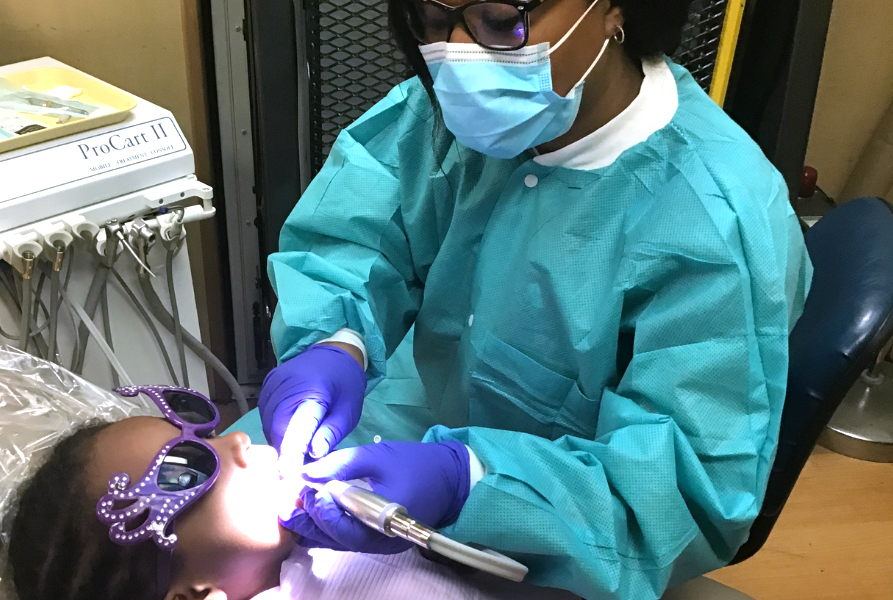 Anna Kay Hutchison, CPS Director at Sabal Palm Elementary, said the culture of the school has shifted since it became a community school in 2019. "Where I've seen the biggest change is having a 'culture of Yes.' I have to constantly remind the staff. We are in the Bible Belt of Florida, so a lot of things are uncomfortable. So I get a lot of 'No' or 'We can't do that.' I can't take 'No' for an answer."
"That culture of Yes is a game-changer for this school," Hutchison continued. "For example…[the dental clinic] was scary for our students and community. It's hard to do these things. I said, 'We can do this.' A Community Partnership School is like a smartphone compared to a rotary phone. We can do lots of things at once. We can be quick and move the needle. But that's daunting to lots of people."
When Rocky Hanna was elected Leon County Schools Superintendent in 2016, he was approached by Tallahassee City Commissioner Gil Ziffer, who had toured Evans High Community Partnership School. Ziffer proposed that Hanna explore developing a CPS in Tallahassee.
"I've always told our folks to think outside the box," said Hanna. "Sabal Palm was both a food desert and a healthcare desert. So we felt that was the best place to create a CPS." Hanna signed a 25-year CPS agreement with partners CHS, Florida A&M University, and Florida State University Primary Health. "We didn't want this to be a fly-by-night program," said Hanna. "Our kids come to school with a lot of needs outside of academics, such as health care and hygiene, dental health, and vision. A lot of those services are hard for parents to access to help their kids to be successful in school. We felt this was an opportunity for us to bring those services to the schools, versus us having parents take off work. In addition to counseling services and issues of trauma, there is a social worker for families dealing with homelessness or poverty. We saw it as an opportunity for us to address some needs outside the classroom while still in the school community."
Hanna had to explain to skeptics why students needed these supports. "I've been in this profession for 33 years. The family dynamic has changed in the last three decades—as have the needs of our children. We can't ignore the lack of resources and lack of advocacy that kids have at home. They are not going to be successful in school unless those basic needs are met. We realized whether it's hunger or vision or health issues, those needs are not being met at home, so it's incumbent on us to offer assistance to families who otherwise wouldn't be able to help their kids."
The Sabal Palm Elementary Community Partnership School had been running for less than a year when the COVID-19 pandemic hit. It provided proof of concept for what a school can do when it offers robust supports.
"What we pulled off [during the pandemic] was nothing short of amazing," Hanna said. "We broke down 9,000 desktop computers and distributed them to every family that didn't have a computer. We contracted with Comcast and T-Mobile to provide internet for all. We put hotspots on school buses and parked them in low-income neighborhoods and Section 8 housing. We did everything we could to help those kids get engaged. It helped at Sabal Palm to have those support systems already in place."
"My biggest challenge," Hanna continued, "is to replicate Community Partnership Schools in about 10 of our other schools. This is a true example of a village raising a child. You have a school system, two major universities, and Children's Home Society that have all partnered to ensure the success of the 500–600 students who walk through those doors each morning. Everybody's all in, like a game of Texas Hold'Em, where everyone pushes all their chips to the center of the table. All the partners have skin in the game for 25 years."
The school staff also needs to embrace the CPS approach for it to succeed. Principal Robinson works to inspire her staff as they operate a busy food pantry and support local families. "You've got to make them believe that they're winners," said Robinson, who also coaches high school basketball. "If each player plays their role, we're gonna win. If your only job is to rebound, then rebound. I am very big about everybody knowing their role."
"I tell the people I hire, 'This is heavy lifting.' But if you are dedicated and you are trying your best, these kids and families will love you and they will buy in, and you will be successful," assured Robinson. "That and a culture of Yes—we figure out a way to make it work. That's the single biggest thing that has had an impact."
With the CPS model, Robinson believes she has hit the winning shot. "What we're really starting to see is that kids can be kids when they're here. They don't have to worry about their tooth hurting. They can tell a teacher, and the teacher can help. A CPS is about removing barriers."
From Despair to Dreams
Tim Only has big dreams, which is saying something for a young man who was unhoused and experienced suicidal ideation just a few years ago. In Only's senior year at Evans High School, he straddled the broken world from which he came and the brighter future he was desperate to claim. He was senior class president and a member of the National Honor Society at school, while surviving physical abuse and violence at home.
"I was a poster child who was going through a lot at once," he recalled. Evans High and his mentor Jarvis Wheeler "were my safe haven. When I was home, that's where I was not protected. That's why I was at school from 7:00 a.m. to 9:00 p.m."
Only was showing up at school hungry and wearing the same clothes all week. The Community Partnership School staff engaged with him on every level, from mental health counseling to providing him clothing and food from the school's on-site food pantry. Ultimately, they helped him find a safe place to live that was run by CHS.
"I was my class president, but I had to move into a group home because it was to the point where I had to leave home or I would kill myself," Only said.
Only's candor about his struggles drew people to him. "One of my gifts is that people know I'm very real. Most people would hide that trauma and be afraid to tell. But I'm honest. I would just let you know my own truth. A lot of people knew what I was going through and thought, 'If he can do it, I can do it.' A lot of students respected me."
"A real leader is different from everyone else," Only mused. "They know how to bring people together. It doesn't matter what that person's back story is about if they are able to make change at the school."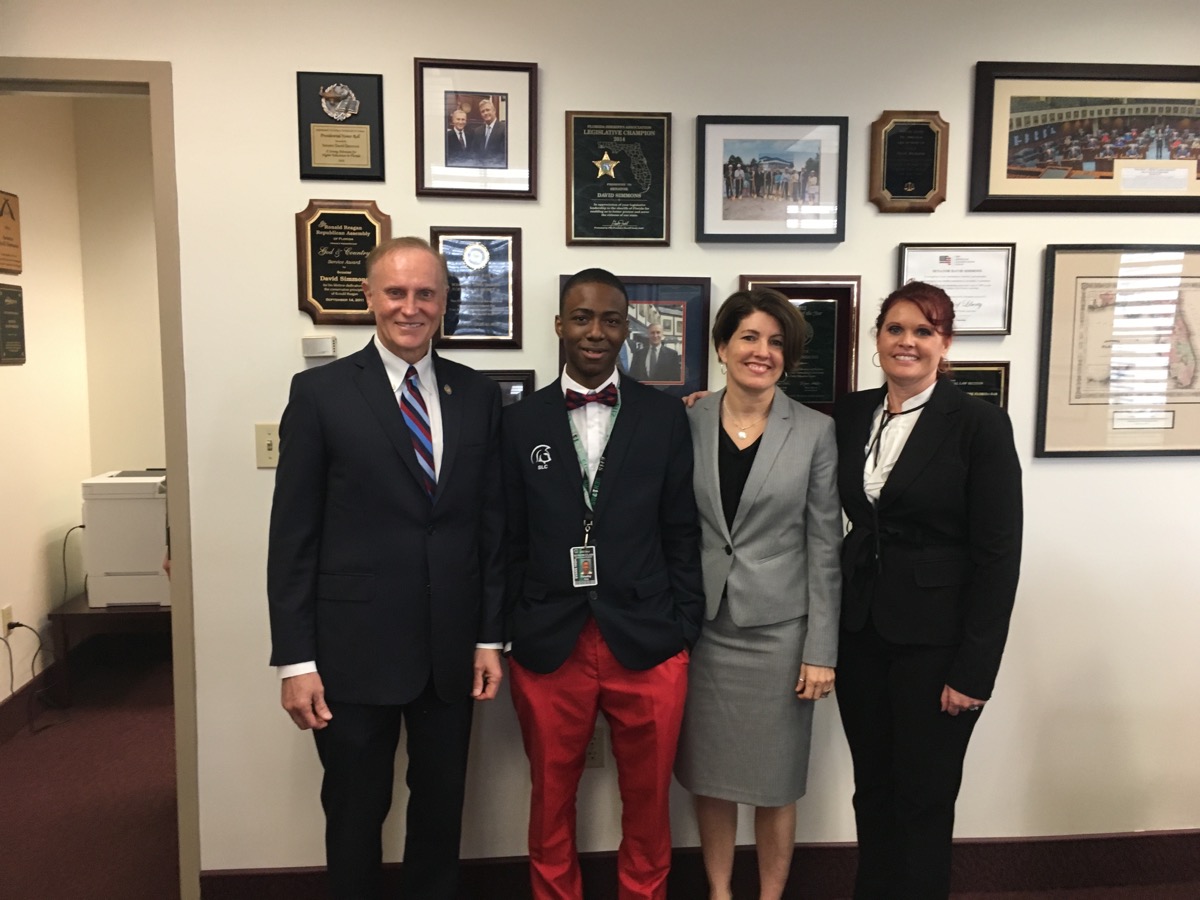 Tim Only has not merely survived—he has thrived. After graduating at the top of his class at Evans High, he won scholarships to attend Florida State University, where he majored in emergency disaster management. He is pursuing a graduate degree in the same field.
"I correlate that to my life," he said. "My life was an emergency situation which turned into a disaster that I had to manage." He is a mentor to younger students.
"The stars cannot shine without darkness," Only reflected. "You have to embrace your darkness in order to find your light. And when you find your light, you are able to guide yourself through any dark path throughout your life."
"No one is gonna be able to find your personal path through life. That's my motto," he said.