Our six case studies reinforce the point we made at the outset of this book: Community schools are doable and worth doing.
In Chapters 1 through 3, we outlined key definitions, principles, and practices of community schools that have evolved over the past three decades. In Part II (Chapters 4 through 9), we explore in-depth six model community school initiatives. In this final section, we reflect on how our colleagues around the country have operationalized these principles and what we can learn from their experiences (this chapter, Chapter 10). We then close with our ideas about key opportunities facing the community school movement during the foreseeable future (Chapter 11).
The stories at the heart of our text exemplify both the diversity and the commonalities of community school initiatives burgeoning across the country. Common themes in these stories include leadership, partnership, collaboration, equity, innovation, and systemic change. Key lessons emerge from our colleagues' work:
Lesson 1: Community schools benefit from both outside-in and inside-out leadership.
Leaders from outside the school districts played a pivotal role in driving the development of community schools across our six diverse areas. Only one of the six exemplars (Oakland) drew its initial vision and impetus from the school district—and even then, the superintendent immediately mobilized trusted community partners that could test and strengthen the central idea of every school a community school.
We make this point not to diminish the vital role of district leadership but to highlight the many ways that leadership can manifest itself in local communities and to illustrate how external community leaders can step up to support their public schools as noted here:
In Albuquerque, three major governmental entities—city, county, and school district—formed a joint powers agreement that provided both the mandate and the infrastructure to facilitate work across jurisdictional boundaries in addressing shared goals and outcomes.

In Cincinnati, a former governor who became a local school board member and a former family court judge joined forces and used their collective political clout to address clear community needs, providing the initial impetus for the development of Cincinnati's Community Learning Centers.

In Florida, a large public university and a leading statewide nonprofit organization convinced their Republican governor and state legislature to fund a statewide community school effort.

In Los Angeles, a shared vision of social justice led a major university to combine its rich resources with a like-minded principal, school staff, and community.

In New York City, a recently elected mayor listened to the voices of community organizers who had painstakingly canvassed parents and other local citizens, resulting in the creation of the nation's largest citywide community school initiative.

In Oakland, the school superintendent reached out to trusted organizational partners that mobilized community resources in innovative and strategic ways, thus operationalizing the vision of the nation's first community school district.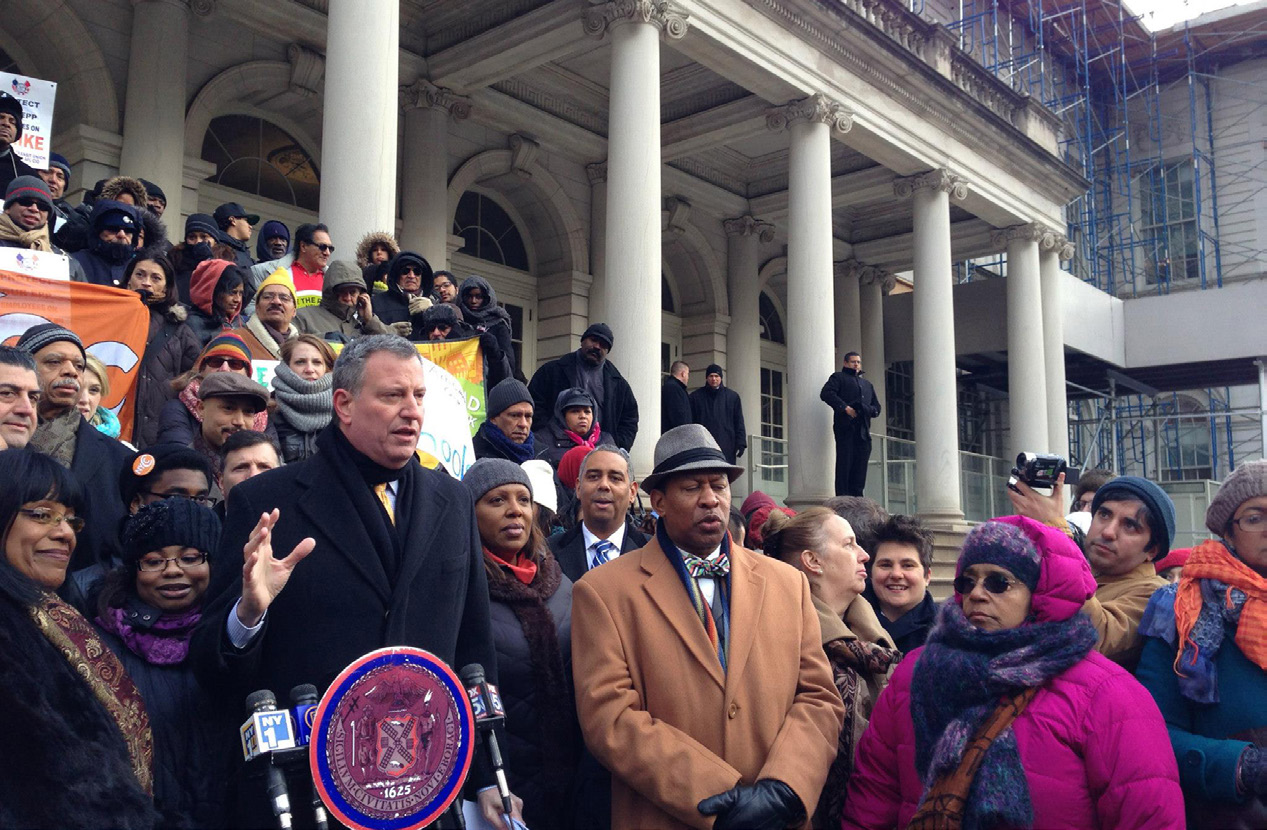 The engagement of leaders outside schools addresses a well-documented challenge in promoting educational change. As Stanford University professor Larry Cuban (2021) has noted in his writings, including in Confessions of a School Reformer, schools and districts often find it difficult to change themselves from within. This insight resonates deeply with how outside partners in our stories and in many other communities are playing a vital catalytic role in fostering systemic change in schools. Indeed, the leadership role played by major institutional partners such as local governments, teachers unions, higher education institutions, and United Ways can be crucial to deepening public support for public education and sustaining community schools during municipal or district leadership changes.
The school leaders in our stories who are working across boundaries with external allies know that collaborative work is a central feature of community schools and necessary for their success. We would nevertheless underscore that the support of school leadership at both the system and school levels is critical to growing and sustaining the work.
Indeed, the local leadership exemplified in our case studies is remarkable—an active exercise in democracy that might, in today's context, seem revolutionary.
Lesson 2: Partnerships are fundamental to community schools.
Partnerships with community agencies and institutions constitute an essential way of working—at individual schools, at the systems level, and at every level in-between. Our case studies offer rich examples of the many kinds of partnerships that have been integrated, from health and social service providers to institutions of higher education to youth development organizations to cultural groups and beyond. These partnerships enable schools to address the holistic needs of their students by putting more caring, competent adults in their lives.
Our stories highlight four unique aspects of partnerships associated with community schools. First, partners are engaged for the long haul, as exemplified most explicitly by the 25-year commitment in Florida. In Cincinnati, the Community Learning Center Institute has partnered with its city schools now for 20 years and sees that work as its core mission, as do many of the community-based organizations that are lead partners in that school district. These longer term partnerships are a cornerstone for sustainability.
Second, community partners bring varying skills and perspectives to community schools that focus on multiple aspects of young people's development. A youth development organization like El Puente in New York City recognizes, uses, and enhances young people's strengths and provides opportunities for fostering positive relationships, building their leadership skills. Health agencies associated with Florida's statewide initiative not only address critical health and mental health issues but also bring a healthy living framework to the school. In general, additional adults in the school offer more opportunities for students to find mentors to support them. These partnerships enable the community school to address all the interests and concerns of young people.
Third, partnerships help the school and its community partners do a better job. Rather than operating in silos, all partners change and improve their practice because their work is integrated into the life of the school. For example, consider New York City's strategy to engage the city's vibrant nonprofit sector as lead agencies in its initial cohort of 100 (now more than 400) community schools. With the United Way of New York City as a strategic partner, the initiative recruited 62 nonprofit organizations—many of which had never heard of community schools—as lead agency partners. For many of these organizations with expertise beyond the school, the decision to participate in the initiative changed their service delivery systems by adding school sites as venues for partnership and outreach. Working with the school provided more direct access to their target populations, the use of public space, and the opportunity to influence school culture and operations. It also changed their mindsets by, for example, expanding the advocacy agendas of many of these nonprofits to include fiscal equity and other educational issues.
Finally, community partners can bring a more diverse group of adults into the lives of students. Given evidence showing that young people of color benefit significantly from having adults from their own community involved in their lives, this aspect of community schooling is especially valuable.
Our case studies indicate that some community school initiatives support partnerships at the systems level. For example, Oakland has built systems to coordinate partnerships as an integral part of its district-led community school model. New York City combines school-initiated partnerships with some relationships—such as businesses that have provided free eyeglasses and washing machines—that assist schools across the citywide initiative.
Lesson 3: Community voice is essential for authentic collaboration.
Our stories emphasize the importance of listening and responding to the issues and concerns voiced by students, parents, and community residents, and of continuing to engage them authentically in the work of the community school.
In the wake of the COVID-19 pandemic, Oakland High School committed to prioritizing issues brought forward by students. At the UCLA Community Schools, students and teachers have direct influence on the curricula, underscoring the value of student voice.
Grassroots community organizing focused on schools enabled the Coalition for Educational Justice and the Alliance for Quality Education in New York to successfully advocate for community schools, and now to hold political leaders' feet to the fire so these efforts are sustained and expanded. Parents and the community helped plan and design New York's community school initiative despite a change in mayoral leadership.
In Cincinnati, the community around Oyler School was deeply engaged in planning for their Community Learning Center and asked for Oyler, which had been a K–8 school, to expand to include high school. The school board listened. Today, Local School Decision Making Committees in Community Learning Centers, including parents and educators, select and hold accountable the partners that enhance opportunities for student success and community vitality.
The struggles of people from low-income communities and people of color to have their voices heard is a historical and present-day reality. This has been no less true in our public schools. Community school leaders from the grassroots to grasstops are showing how this reality can change. They are demonstrating how listening to the people whom our public schools are intended to benefit—students, families, and community residents—can lead to success for everyone.
Lesson 4: Community schools possess a unique capacity to leverage resources.
All six of our case studies illustrate the power of leverage—in mobilizing education and non-education dollars as well as human and financial resources from public and private sources. Partners are bringing their programs into the school because it helps them achieve their own goals. None of these community school systems relies solely on education dollars to support their work; rather, they show the myriad ways that community schools can identify and organize resources from multiple federal, state, and local agencies to address documented needs and improve results. Albuquerque's case study, which showed a $7.11 return on investment for every dollar spent to support the work of the Manzano Mesa community school coordinator, is but one of many examples of leverage that, in their case, includes cash donations, in-kind contributions, and volunteerism.
Cincinnati illustrates the core community school strategy of engaging partners who bring their own human and financial resources into its Community Learning Centers, sometimes with funding streams for which schools are not eligible. Working at the municipal level, New York City was able to redirect several existing public funding streams to its community school initiative while also engaging the local United Way and nonprofit sector as key partners. In several sites, including Florida and California, colleges and universities have readily agreed to share multiple assets, including the human resources represented by students and faculty. Medicaid underwrites medical and mental health services across the case studies. The bottom line: Community schools are a powerful engine for integrating multiple sources of funding and human capital.
Lesson 5: Community school coordinators are a vital bridge between the school, students, families, and communities.
One of the earliest innovations in this generation of community schools was the development of the community school coordinator (also called director or manager) position. The coordinator works closely with the school's principal, taking responsibility for overseeing the needs and assets assessment process, recruitment and coordination of community partners, and integration of student and family support with the school's core instructional program.
Coordinators facilitate site planning teams where educators, families, and community partners plan and oversee the work of the community school. They often participate on school leadership teams, which are responsible for developing and monitoring the school's comprehensive education plan, where they bring a community perspective into the discussion. Coordinators also join or lead the student support team, which handles assessing and addressing the needs of individual students. These planning teams are central to running an effective, responsive organization. The leadership role played by the community school director or coordinator is often compared to that of an assistant principal; others have likened the role to chief of staff or air traffic controller.
Coordinators work to build bridges every day—between schools and their students, between educators and community partners, between families and community residents and the school. It is an essential new role if we want to grow and sustain the capability of educators, families, and community partners to work together in strategic ways. As community schools have gained greater visibility, coordinators have most often been employed by lead agency partners that have roots in the community or expertise that schools do not have. Coordinators can also be school district employees, as is the case in Oakland.
At the initiative level, coordinators enjoy support from their districts or sponsoring agencies. For example, New York City provides monthly day-long training sessions for its coordinators. Oakland reorganized its central office around the community school strategy. And the University of Central Florida offers regular professional development and on-site support that helps all the partners move toward becoming certified Community Partnership Schools. Nationally, community school coordinators participate in a network organized by the Coalition for Community Schools that provides opportunities for professional development and ongoing support.
The case studies in this book let readers hear the voices of community school coordinators as they carry out their daily responsibilities in the challenging environment of under-resourced schools. What comes through is their ongoing resourcefulness, their relationship-oriented approach to solving problems, and their bedrock belief in the value of the community school strategy. Of particular note, we have heard many principals, even those who approached the community school idea with some trepidation, observe after a year or two, "I could not do my work without the partnership of my coordinator."
Lesson 6: Community schools are problem-solving organizations.
This generation of community schools has spawned a variety of both short- and long-term innovations that help to solve persistent educational and community problems. One of our colleagues, Kyle Serrette at the National Education Association calls community schools "problem-solving machines"—an apt descriptor that characterizes the work in all our case study sites. From the nationally recognized Homework Diner at the programmatic level in Albuquerque to the reorganization of Oakland's district infrastructure in support of community schools at the systems level, the leaders of these initiatives created new approaches that built on existing strengths and responded to local needs.
Nearly all community schools now have site teams and citywide planning bodies—key infrastructure elements that did not exist in prior iterations of the work. Other innovations brought forward by our exemplars include data-sharing agreements that allow schools and partners to collaborate while also respecting legal requirements (Cincinnati and New York City), resource-sharing agreements across jurisdictional lines (Albuquerque and Oakland), and state-level guidance and financing that facilitates the replication of an innovative partnership model of community schools (Florida). These systemic innovations provide critical support for the kind of bottom-up reform exemplified by community schools.
Community problem-solving is ongoing as community conditions change and as leadership coalesces and evolves. If you had asked Darlene Kamine in 2001 to predict how Cincinnati's Community Learning Centers would look in 20 years, she likely would have had trouble imagining the turn of events and the dramatic results that have been achieved: the district's embrace and ownership of the strategy, the bedrock support of Cincinnati's teachers union, the citywide policy undergirding the initiative, the national visibility generated by its flagship school, the positive results including dramatic increases in district-wide graduation rates, and the widespread community effects that include improvements in housing and employment.
Each of our case studies reveals a unique story of innovation and evolution guided by visionary leaders, involving multiple partners, based on data, listening and responding to the voices of community residents, and taking advantage of strategic opportunities. For example, Albuquerque found that its early focus on reducing chronic absence fostered changes in parent and student engagement, which, in turn, led to reductions in student mobility—an example of success begetting success and a reminder of the importance of consistent data review on a variety of measures. New York City's community schools work was so effective that district leaders asked its Office of Community Schools to take on additional assignments, including organizing district infrastructure and services for students living in temporary housing.
Contemporary community schools have shown success because they have the will and capacity to address the problems we can see today and those that are still to come. For example, when the COVID-19 pandemic hit, community schools were ready to respond because they had partners and collaborative cultures in place to do so. As more established community schools move forward, they must face the issues raised by Natasha Capers at the conclusion of the New York City case study—the ongoing need to reinvent and adapt to changing circumstances in order to maintain their problem-solving capacity. The words of this veteran activist about the animating question that drives her work and that of her community school colleagues are worth repeating here: "We're always...trying to figure out what's the next layer of work that schools can take on...to actually raise the quality of those community schools so that they can become the big vision we know they can be."
Lesson 7: Community schools are a long-term, results-oriented strategy.
Community schools foster a culture of innovation and organizational learning and function as centers of ongoing change and development. As such, they represent a long-term strategy designed to improve results on multiple fronts, including but not limited to academic achievement.
In contrast to much of America's recent history of school reform that revolved around quick fixes—such as establishing academic standards and relying on high-stakes tests as primary measurement tools—community schools take the long view. They commit themselves to both understanding and responding to the realities of students' lives—realities that often include family instability; lack of access to health care, technology, and other essentials; and systemic inequities such as inadequate housing and environmental racism.
By integrating improvements in teaching and learning with an array of supports and opportunities for students and families, community schools have demonstrated results that include increased graduation rates, improved attendance and achievement, reduced family mobility, increased teacher retention, reduced disciplinary referrals, improved community safety, and improved student and family well-being.
These changes did not happen overnight—in fact, they often took several years. The recent adopters of the systemic strategy, including New York City and the state of Florida, demonstrated initiative-level results quickly because they had the opportunity to learn from more experienced community school systems across the country.
Lesson 8: The community schools movement builds local capacity as well as state and national policy support.
All six of these initiatives are part of the national movement—one that they both benefited from and contributed to. Each initiative received early and ongoing assistance from the Coalition for Community Schools and the National Center for Community Schools, which allowed them to learn from the expanding knowledge about community school advocacy and implementation. All six, in turn, provided support and assistance to others. Albuquerque, Cincinnati, Los Angeles, and Oakland hosted Community School National Forums in partnership with the Coalition.
There is now a growing body of literature about community schools. The Oakland experience was extensively documented in the book, The Way We Do School: The Making of Oakland's Full-Service Community School District (McLaughlin et al., 2020), while Cincinnati hosted several study visits to its Community Learning Centers for New York City mayoral candidates. New York City subsequently helped build the national case for community schools through its rigorous initiative-wide evaluation, conducted by RAND.
The work of these sites and others helped to create good models and resources that support core practices and quality implementation. The Coalition for Community Schools convened experienced practitioners who created practice standards at both the school and initiative level (Coalition for Community Schools, 2018). The National Center for Community Schools developed implementation guides, including one designed specifically for community school directors (National Center for Community Schools, 2017). These resources are available for free, providing opportunities for new and existing community school leaders to build their work on current knowledge of best practices.
Each of these initiatives has also provided proof points for the emergence of statewide community schools coalitions. These coalitions are having a growing impact as evidenced by dedicated funding in California, Florida, and New Mexico as well as by state-level legislative or administrative support for community school development in Ohio and New York.
Other aspects of individual sites also informed and catalyzed national activity. The work of University of California, Los Angeles, a member of the University-Assisted Community Schools Network, is a beacon for other higher education institutions. The support of the Cincinnati Federation of Teachers for Community Learning Centers contributed to national support from the American Federation of Teachers. Education organizing work in New York moved the field to work toward deeper relationships with grassroots groups. Florida informed efforts to engage state legislatures. Albuquerque made clear how community schools are pivotal to fighting poverty. And Oakland demonstrated the viability of an entire community school district.
The multiple ways in which local, state, and national efforts interact is a testament to the importance and vitality of the community schools movement. By bringing people and organizations together for sharing, mutual learning, and joint action, the Coalition for Community Schools has built a national, state, and local network based on shared values and ideas that is having significant impact on policy, financing, and practice.
Lesson 9: A collaborative culture enables community schools to effect ongoing systemic change.
Collaborative leadership and practices represent one of the pillars—or essential ingredients—of community schools. Our colleague Abe Fernandez, now director of the National Center for Community Schools, made the helpful observation that the word labor is located in the middle of the word collaboration, an apt reminder that we are talking about an ongoing way of working, not a one-time event. For many schools and their partners, this way of working represents a cultural shift, moving schools from being strictly a professionally driven enterprise to a democratically driven one.
The idea that collaboration can be a strong vehicle for systems change is decidedly different from cooperation, where agencies work together to achieve only their own goals (Melaville et al., 1993). As Oakland superintendent Kyla Johnson-Trammell so aptly observed, her district's ability to respond to the COVID-19 pandemic required taking on a "community schools mindset" that involved collaborating with community partners to respond quickly and effectively to the new challenges brought about by the pandemic, including access to technology, health care, and housing.
In addition to the mindset shift represented by working with partners, other indicators of systemic change emanating from our stories include leaders working across institutional and even jurisdictional boundaries, listening and responding to community voices, integrating funding streams from multiple agencies, creating connector roles and organizations, and focusing on shared results and changing policy. Taken together, these indicators make the case that the community school itself represents systemic change—a change that must continue to evolve to meet new challenges.
Lesson 10: Equity is at the core of community schools.
New York City's then-Schools Chancellor Richard Carranza observed in a 2019 essay, "We have a high bar of achievement for each student—this is excellence. And we are prepared to deliver the support that each of them needs to meet that bar. This is equity" (Carranza, 2019, para. 3).
Readers have seen throughout our stories the many inequities that students face— including housing, unemployment, and community safety—as well as the myriad approaches used by community schools to close the opportunity gap by bringing together educators and community partners. Community schools are offering curricular experiences that engage students with the world around them in a way that makes them active agents of change and their own development. They are building trust among people and institutions as well as a sense of collective investment in the future of our young people, our schools, and our neighborhoods.
Centered on one of the few remaining great public institutions that reaches all students and families, community schools are a catalyst for community change—a vehicle for pursuing a broader equity strategy that must also address income inequality, affordable housing, decent jobs, and access to quality childcare and early learning opportunities.
Readers will no doubt draw their own lessons from the case studies. The authors' reflections are simply an attempt to extract key insights from the rich descriptions of work we have come to respect and admire. We will build on and refer to these lessons in our concluding chapter in which we examine the opportunities on the road ahead.